November 22, 2013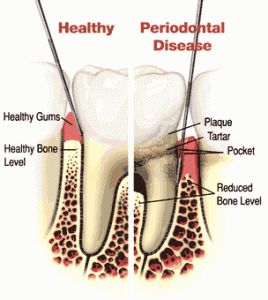 Many dental patients are surprised to learn the most common threat their oral health faces isn't something obvious like common cavities or grinding – in fact, it's an ailment that doesn't directly affect your teeth at all. Nearly 80% of the population suffers from a stage of periodontal disease (also referred to as gum disease), and although this condition only exhibits mild symptoms in the early stages, it can lead to devastating consequences if left untreated, include jawbone deterioration and tooth loss. Studies have even shown that its presence can worsen illnesses like diabetes and heart disease. Here in at Resnick and Rosenfeld, DDS in Edison, our team takes the threat of periodontal disease very seriously; that's why we rely on microscopic analysis, which can predict (even in its earliest stages) which patients have the potential to develop the condition. If you're between check-ups, however, Drs. Resnick and Rosenfeld still want you to feel well-informed when it comes to your oral health.  Here are some common symptoms concerning periodontal disease that you can keep an eye out for in the comfort of your own home:
Bleeding that occurs during or after brushing/flossing
Gums that appear red, swollen, or tender
Bad breath that isn't helped by brushing, flossing, or mouthwash
Teeth that appear longer (this means your gumline is receding)
A sudden change in the way your bite fits together
It's crucial to remember, though, that in many cases of periodontal disease, symptoms won't develop at all for some time. That's why attending regular check-ups at our office is key! Our team specializes in anti-infective, non-surgical periodontal disease treatment that helps patients avoid surgery allows natural healing to occur in your gums.
Contact our Edison office today to schedule an appointment! Drs. Resnick and Rosenfeld are committed to providing patients with kind, comprehensive dental care that puts their comfort first. We also serve the areas of Clark, Plainfield, Scotch Plains, Westfield, Colonia, and beyond.