Cosmetic Dentist Enhancing Edison Smiles
Looking to Improve Your Smile?
Do you dream of teeth that are beautifully white, straight, and free of imperfections? This goal could be closer than you think here in Edison, NJ. Rosenfeld Dental Associates offers a wide variety of cosmetic services, and we'll work closely with you in order to design a treatment plan that creates the dazzling improvements you have in mind. Contact us today here in Edison, NJ if you're ready to schedule a consultation with our team, or if have any questions we can help you with.
Porcelain Veneers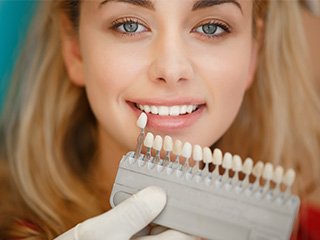 Do you wish you could give your smile a complete makeover all at once? Porcelain veneers can accomplish this dazzling transformation for patients in need. Veneers are dental restorations that are designed to be extremely thin in nature. This allows our dentists to secure them in place over just the front surfaces of teeth in a natural-looking fashion. Veneers are attractive and functional, and they're capable of correcting stains, gaps, chips, cracks, misaligned teeth, and more.
Learn More About Porcelain Veneers
Metal-Free Dental Restorations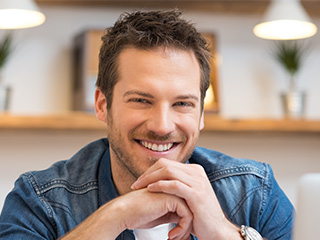 Contrary to popular belief, common dental restorations like crowns don't have to be made from noticeably unnatural materials. At Rosenfeld Dental Associates, we use metal-free options that are high in quality and beautifully lifelike – in fact, they even have the same translucent qualities as natural tooth enamel! Once they're in place within the mouth, they should feel comfortable and durable as well.
Learn More About Metal-Free Restorations
Invisalign® Clear Braces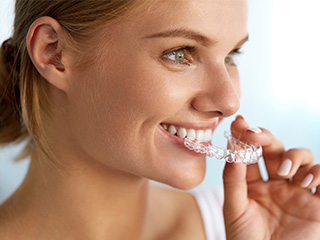 If you want to achieve a straighter, more uniform smile without settling for years of wearing juvenile metal braces, Invisalign may be the perfect solution for you. Instead of brackets and wires, patients will use clear aligners that are designed for their unique smile. These aligners are comfortable and removable, allowing the wearer to continue enjoying all their favorite foods and practicing their regular oral hygiene routine.
Direct Cosmetic Bonding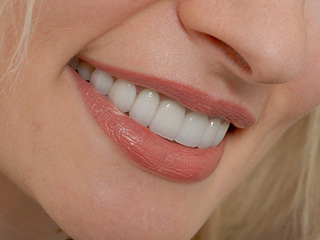 Direct bonding is an excellent cosmetic solution for patients who are struggling with tiny dental chips, gaps between teeth, stubborn staining, or other flaws that are relatively small and need a quick fix. This treatment only takes a single appointment, during which one of our dentists will apply the bonding material (tooth-colored composite resin) to the requested tooth and sculpt it so that it hides the imperfection while still appearing like a natural part of your smile. Our patients can look forward to enjoying these improvements for years at a time!
Learn More About Cosmetic Bonding
Zoom! Teeth Whitening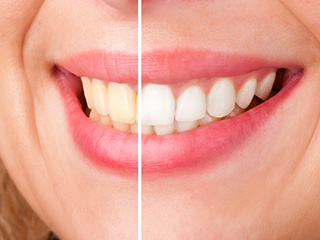 If you miss your smile's brilliantly white shade, our professional teeth whitening options can help you regain what's been lost. Rosenfeld Dental Associates offers both in-office Zoom! Whitening for lightning-fast improvements and take-home kits that allow you to brighten your tooth enamel on your own schedule.