Implant Dentures – Edison, NJ
The Most Stable, Full Smile Replacement Solution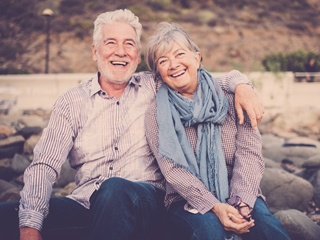 Are you missing all or most of your teeth? Do you have an unreliable denture that makes you self-conscious to eat or drink in public? Dr. David S. Rosenfeld has the answer: implant dentures. This modern dental technology allows patients to eat, speak, smile, and laugh with confidence. Keep reading or give our office a call today to learn more about how we combine dentures with dental implants in Edison to deliver you a complete and healthy smile.
What are Implant Dentures?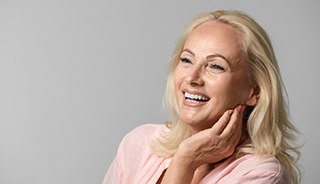 This unique treatment combines the benefits of dentures with the stability of dental implants to give you an unmatched replacement solution. Using an average of 4 strategically placed dental implants, we can fix a custom-made denture to these artificial tooth roots, creating the most stable full smile replacement.
When choosing implant dentures, you have two options to pick from. This includes fixed and removable dentures, both of which have their own unique benefits.
Fixed/Permanent Implant Dentures
Fixed implant dentures are not designed to be removed on your own. Instead, they are only taken out by the dentist who placed them. To ensure a fixed denture remains stable, typically four to six implants need to be placed into the jaw.
Removable Implant Dentures
When you opt for removable implant dentures, you generally don't need as many dental implants to hold them in place nor as much bone tissue compared to the fixed option. You're also able to take them out on your own for routine cleaning, which is a preferred method for some patients.
The Implant Denture Procedure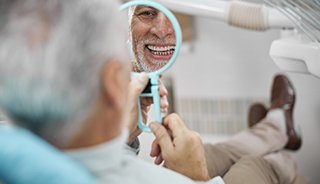 Your process will start with a visit to our dentist in Edison. During a consultation with Dr. Rosenfeld, he will carefully examine the number of teeth that you're missing, the strength of your jawbone, and the condition of your oral health. Once they've ensured that you're a good candidate for implant retained dentures, they will schedule your dental implant surgery.
The surgical process will start with small incisions in your gums to reach your jawbone. Then, we'll drill tiny holes in your jaw to place your dental implants. After waiting about 3 to 4 months for your implants to fuse to your jawbone, you'll come back into our office, where we will mount your custom-made denture. While this process seems lengthy, it's precisely what makes implant dentures healthy, long-lasting, and lifelike.
Am I a Candidate for Implant Dentures?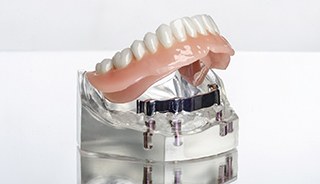 Candidates for implant dentures are typically missing most or all of their teeth, but this is not the only factor we take into account during your consultation. We also take the time to measure the bone tissue inside your jaw to confirm it is thick and dense enough to receive dental implants. Furthermore, we'll need to address any existing dental issues you may have before performing oral surgery, including tooth decay, gum disease, or teeth in need of extraction to make room for the permanent restoration.
Benefits of Combining Dentures & Dental Implants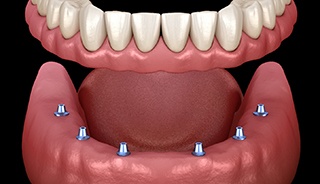 By using dental implants to hold your restoration, you can expect:
Longer-lasting tooth replacement (averaging about 30 years and longer of use)
A more secure and stable restoration (no shifting or sliding out of place)
A stronger biting force to enjoy your favorite foods
A beautiful smile that feels as natural as it looks
Reduced signs of aging (thanks to improved blood flow provided by the prosthetic roots)