Implant-Retained Dentures – Edison, NJ
The Most Stable Full Smile Replacement Solution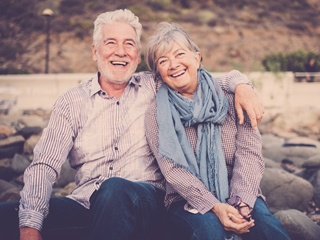 Are you missing all or most of your teeth? Do you have an unreliable denture that makes you self-conscious to eat or drink in public? Dr. David S. Rosenfeld has the answer: implant-retained dentures. This modern dental technology allows patients to eat, speak, smile, and laugh with confidence. Keep reading to learn more about how we combine dentures with dental implants in Edison to deliver you a complete and healthy smile.
What is an Implant-Retained Denture?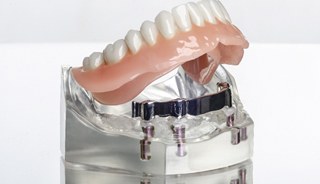 This unique treatment combines the benefits of dentures with the stability of dental implants to give you an unmatched replacement solution. Using an average of 4 strategically placed dental implants, we can fix a custom-made denture to these artificial tooth roots, creating the most stable full smile replacement.
Not only will you have a strong and sturdy smile, but you'll enjoy the unique health benefits that come with dental implants. When you lose teeth, your jawbone will begin to deteriorate because it's not getting the same stimulation it once was from your full smile. Because implants are rooted in the jawbone, their stimulation keeps it healthy and strong.
The Implant-Retained Denture Process
Your process will start with a visit to our dentist in Edison. During a consultation with Dr. Rosenfeld, he will carefully examine the number of teeth that you're missing, the strength of your jawbone, and the condition of your oral health. Once they've ensured that you're a good candidate for implant retained dentures, they will schedule your dental implant surgery.
The surgical process will start with small incisions in your gums to reach your jawbone. Then, we'll drill tiny holes in your jaw to place your dental implants. After waiting about 3 to 4 months for your implants to fuse to your jawbone, you'll come back into our office, where we will mount your custom-made denture. While this process seems lengthy, it's precisely what makes implant-retained dentures healthy, long-lasting, and lifelike.
How Should I Maintain My Implant-Retained Dentures?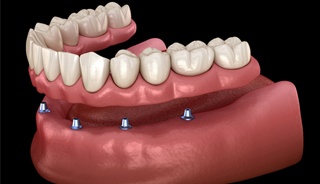 Another benefit that you can enjoy with implant-retained dentures is that they are much easier to maintain compared to traditional dentures. Instead of having to take your dentures out to soak them in a special solution along with a handful of other steps, these can be brushed just like your normal teeth. In fact, the only time they'll be taken out is during your routine checkups at our office.
Water flossers are useful tools that can extend the lifespan of your implant-supported dentures. With this fine stream of water that can be adjusted, you can "floss" in between your gum tissue and denture to remove any lingering debris. This extra step will keep your dentures clean and it will help your dental implants last for the rest of your life.