Dental Implants – Edison, NJ
The Best Choice for Completing Your Smile
Are you missing one or more teeth? Dr. Rosenfeld has a restorative dentistry solution that can help. Using dental implants, he provides Edison area patients with an extremely effective, natural-looking tooth replacement option that beats a traditional dental crown, bridge, or partial. They can also be used to support and stabilize full dentures. Our office utilizes the most current restorative technology to rebuild patients' smiles with dental implants in Edison, NJ. If you are missing a single tooth or a number of teeth due to an accident, decay, or infection, or if you are having a problem with your dentures or partials, we will be happy to advise you of your dental implant options. Contact our office today!
Why Choose Rosenfeld Dental Associates for Dental Implants?
Dental Implants Placed & Restored In-Office
Fellow of the International Congress of Oral Implantologists
Affordable Payment Options Available
What Are Dental Implants?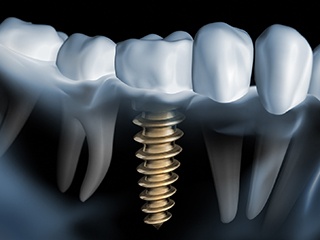 Dental implants are small posts that are surgically inserted into the gum line to recreate lost tooth roots. Once in place, dental implants can be used to support any number of replacement teeth, recreating a flawless, healthy smile. We can use a variety of biocompatible substances to craft dental implants, but the two materials that are most often used are titanium and zirconia.
After the implants have fused to your jawbone through a natural process called osseointegration, Dr. Rosenfeld will place metal abutments on top. These attachments can be used to secure a custom dental crown, bridge, or denture, instantly completing your smile. Because dental implants replace teeth from the root up, they'll look, feel, and function just like the teeth you were born with!
The 4-Step Dental Implant Process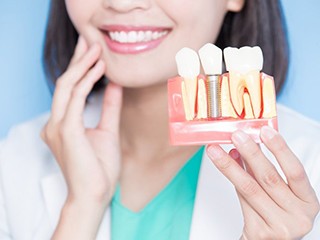 When you first learn about dental implants, the whole process can sound kind of intimidating. Once you understand how the treatment works and why certain steps are performed, you'll feel far more confident going into your treatment. For starters, you should know that receiving dental implants involves multiple phases. At your consultation, Dr. Rosenfeld can explain the treatment in great detail. In the meantime, here is a basic outline of the dental implant process:
Initial Dental Implant Consultation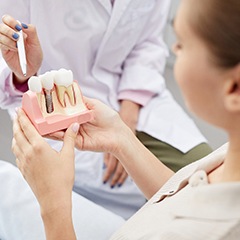 When you first arrive at our office, we'll perform a detailed examination of your current smile to confirm how many teeth and which ones need to be replaced. This will involve a visual exam, but it will also involve detailed X-rays and in all likelihood a cone beam scan. Overall, dental implant consultations allow us to confirm if you are eligible to receive dental implants or if additional treatments are needed before you can safely receive dental implants. For example, if you have gum disease or bone loss, gum therapy and/or bone grafting may be needed.
Dental Implant Surgery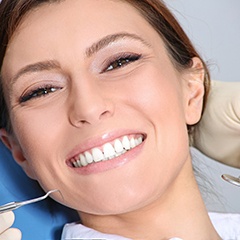 If we determine that you are eligible to receive dental implants, we'll begin the process of planning your placement procedure. Many general dentists don't have the training necessary to place implants themselves, so they often have to refer patients to an oral surgeon or periodontist. However, because Dr. Rosenfeld is a Fellow of the International Congress of Oral Implantologists, he can perform the whole procedure under one roof. You won't have to be referred to an outside specialist to receive your new teeth!
During the surgery, you'll be given local anesthetic (and sedation if requested) to ensure the most comfortable experience possible. In most cases, placing dental implants takes just one appointment. To do this, Dr. Rosenfeld creates a small incision in your gum tissue, then a small hole in your jaw so the implant can be placed. Once attached, the gum tissue is closed and given time to heal.
Dental Implant Osseointegration/Abutment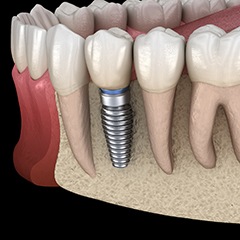 Dental implants are made from biocompatible materials like titanium, which can safely integrate with your existing bone tissue. However, since the osseointegration process takes about four to six months to complete, you will not receive your restoration just yet. After the healing portion of treatment is completed, you'll visit our office to have your implant examined and the abutment placed. The abutment is a very small connector that provides a stable foundation for the permanent restoration. When the abutment is placed, the gum tissue will need to heal over the next couple of weeks before your crown, bridge, or denture is attached.
Delivery of Dental Implant Restorations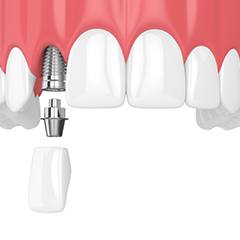 At your final appointment, you'll come back to our office to have the permanent restoration of your dental implant placed. This restoration may be a dental crown, dental bridge, or implant denture depending on the number of implants you have. This restoration is made from tooth-colored ceramic materials, ensuring a truly lifelike appearance next to your remaining teeth. Once attached, we'll make any necessary modifications before you leave and make sure that you are happy with your tooth replacement. We'll also provide aftercare tips to ensure your restoration remains healthy for many years to come.
Benefits of Dental Implants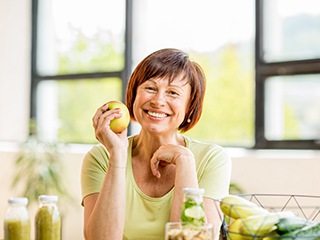 If you have lost one or more teeth, you must consider the wealth of advantages of dental implants when evaluating your options in tooth replacement. They offer a comprehensive solution that can last for decades -- or a lifetime. Plus, dental implants promote oral and overall health by making it easier to eat, speak, and smile with full confidence. Not to mention the fact that dental implant procedures are over 95% successful. That's a wonderful way to invest in your smile!
A Comprehensive Tooth Replacement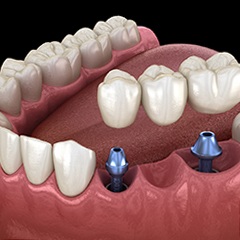 Unlike a fixed bridge, a dental implant will replace a missing tooth's root as well as the visible crown. This comprehensive method promotes better oral and overall health by keeping the jawbone stable and preventing the loss of additional teeth. Plus, a whole-tooth solution looks more natural and makes it easier to eat a balanced, nutritious diet and speak without any lisps or whistles.
Preservation of Surrounding Teeth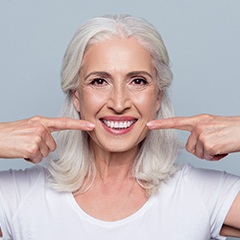 Dental implants replace each tooth individually, but a fixed bridge requires removing tooth enamel from the adjacent teeth so they can be used as anchors for the prosthetics. This means that otherwise healthy teeth have to be fitted for a dental crown to replace those in between. When we can avoid affecting those healthy teeth, we definitely want to -- and that is why dental implants are often preferred.
A Long-Lasting Solution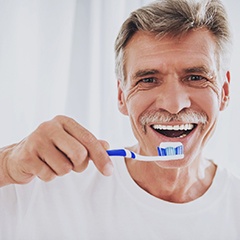 Teeth retained by dental implants also last longer than non-implant tooth replacement options. That is because the jawbone retains its natural shape, ensuring that the crown, bridge, or denture will fit properly and securely in the years to come. So, while dental implants may cost more upfront, you can end up saving more in the long run by avoiding costly replacements of a non-implant-retained option.
High Success Rate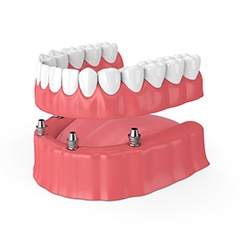 Dental implant procedures are also highly successful for eligible candidates. In fact, many estimates report success rates of over 95% after 10 years. That means when you decide to invest in dental implants, you can feel confident that you are choosing a predictable and successful replacement option -- and that peace of mind is worth so much! In general, candidates for dental implants are those who are in good oral and overall health and whose tooth loss is relatively recent.
Who Dental Implants Can Help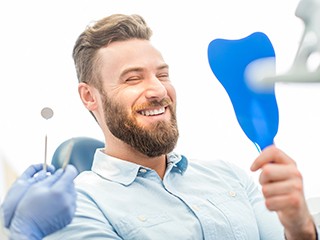 The good news about dental implants is that most patients actually make good candidates for the treatment. The number of dental implants you need will depend on how many teeth you've lost and where they are positioned along your smile line. We can use strategically positioned dental implant posts to support crowns, bridges, partials, and full dentures. Bellow you'll find more details about how each of these restorations is positioned and how many implant posts are needed to support them:
Missing One Tooth
Dental crowns can be used for restoring individual implants. The crown will be crafted from high-quality dental ceramic that's seamlessly lifelike, and its placement attached to a single implant post will preserve the health of surrounding natural teeth.
Missing Multiple Teeth
An implant bridge, on the other hand, is designed to replace missing consecutive teeth. While a traditional bridge is anchored over adjacent natural teeth that have been ground down to accommodate it, this modernized model is attached to two dental implants, one on either side of the gap, which is much better for the patient's overall oral health.
Missing All Teeth
Implant dentures are another option for patients who want to replace a significant number of missing teeth with dental implants. Prosthetics are typically more cost-effective because they can be used to cover multiple implants at once instead of each one requiring a singular restoration.
Fixed dentures are designed to permanently fix in place over four to six implants. As a result, they feel and function just like natural teeth and should be cared for in the same way as well. At regular intervals, our team will remove the prosthetic from your mouth and clean it in order to ensure its continued success.
Alternatively, if a patient is invested in maintaining their denture's removable nature, they can receive an overdenture. While this prosthetic still attaches to four to six dental implants, it can be easily taken out of the mouth at home for simpler cleaning and convenient storage.
Understanding the Cost of Dental Implants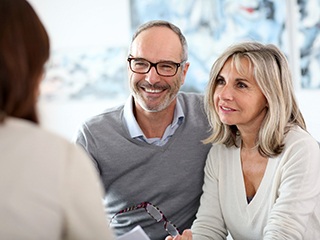 The cost of your dental implant tooth replacement plan will depend in large part on the number and placement of missing teeth, the restoration materials used, and whether or not you need preparatory treatments. During your tooth replacement consultation, we'll be happy to explain every step of the treatment plan, including the costs of each stage of the process. Keep in mind that like any long-term investment, you truly get what you pay for.
Preliminary Treatments & Dental Implant Surgery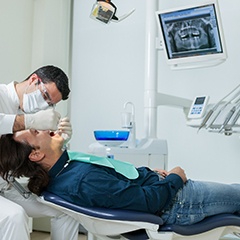 In some cases, other dental treatments need to be completed before dental implants can be safely and effectively placed. For example, if gum disease is present or additional teeth need to be removed, your cost for treatment will be higher. The surgery itself as well as any anesthesia used during your surgery may also incur a higher price tag. However, since Dr. Rosenfeld is able to perform implant placement in-house, this will make the fees of your treatment less complicated and more compact. We'll do everything possible to give you the most accurate estimate upfront.
The Parts of Your Dental Implant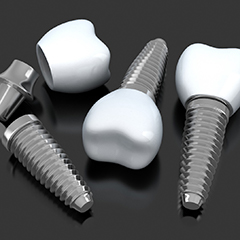 The number of implants you need to have placed is perhaps the most influential factor for your treatment costs. Furthermore, different manufacturers may make use of different materials. For example, most use titanium to create their implants, but others tend to rely on zirconia. Just like cars, these subtle differences can increase or decrease your overall price tag. Dr. Rosenfeld will always be transparent about the materials he uses and the manufacturers receives implants from.
Final Dental Implant Restoration
Dental implants are sophisticated enough to be paired with many different types of dental restorations. This includes crowns, bridges, partial dentures, and full dentures. The more complex your restoration is, the more expensive the treatment will be. With that said, all restorations provided by our office will be fully tailored to blend in with existing teeth and look natural from top-to-bottom. Once you arrive for your permanent restoration, we'll make sure that it fits exactly as intended and make any adjustments if needed.
Does My Dental Insurance Cover Dental Implants?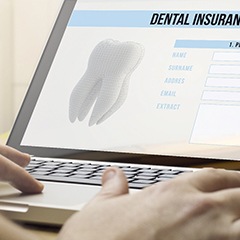 Typically, dental insurance providers don't offer coverage for dental implants, especially the implant post that's surgically placed into the jaw. This is usually because dental implants are not seen as medically necessary. However, there are some exceptions worth taking note of. For example, preliminary treatments or the restoration that covers the implant could receive coverage. Our team has years of experiencing maximizing dental benefits to the fullest, including for treatments like dental implants. Just keep in mind that your plan will likely only cover a portion or percentage if it does provide coverage.
Making Dental Implants Affordable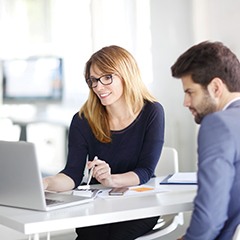 If you do not use dental insurance at this time or your plan did not offer as much coverage as you initially thought it would, there are other ways you can make your dental implant treatment affordable. For example, our office is happy to provide CareCredit, a third-party financing solution that lets you pay for care in monthly installments rather than all in one lump sum.
Not only can you pay for treatment in more manageable amounts over the course of several months or a few years, but you can expect little-to-zero interest attached to these payments.
Dental Implant FAQs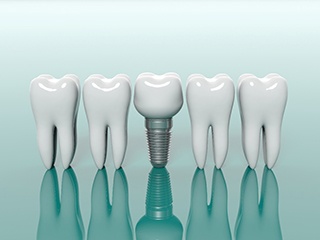 When it comes to the health and appearance of your smile, it's important to know exactly what is going to happen during the procedure and what you can expect from the experience overall. Dr. Rosenfeld is here to answer any and all questions you might have about getting dental implants in Edison. Below are some frequently asked questions that patients often have when getting dental implants for the first time.
What Can I Eat with a Dental Implant?
Like with most dental surgeries, you will need to let the area with your dental implant heal before you can resume a normal diet. For the first two days, your dentist in Edison might recommend an all-liquid diet (applesauce, soup, pudding, and so on). After that, you can move up to semi-liquid foods such as eggs. You'll need to avoid popcorn, nuts, and other crunchy foods for about a week.
Once the recovery and placement process is complete, however, there are no restrictions on what you can eat with a dental implant. You'll be able to enjoy all of your favorite foods without worry!
How Do I Take Care of My Dental Implants?
Taking care of dental implants isn't much different from taking care of your natural teeth. You can brush and floss as you normally would. Use a soft-bristled toothbrush and nonabrasive toothpaste to avoid damaging the surface of the restoration. There are certain brands of dental floss that are designed to be used specifically with implants; water flossers can be an effective alternative if you have trouble reaching the area with string floss.
Of course, a key step in maintaining excellent oral hygiene is a thorough cleaning from your Edison dentist, so don't forget to come to your regular appointments; we can make sure your implants are still in good shape and help address any weaknesses in your daily oral care routine.
Are Dental Implants Covered by Insurance?
Many dental plans will have different benefits, so coverage for certain treatments may vary. That said, most plans will consider dental implants a cosmetic procedure and won't cover them; however, they might still pay for certain necessary surgeries. We can help you get the most out of your benefits and help you review your financing options before committing to treatment.
Can Dental Implants Fail?
Despite a high success rate, dental implant failure is still possible. It can happen if osseointegration isn't successful or if there's an infection underneath the implant. Mechanical problems such as a loose screw are also a possibility.
No matter what the cause, it's important to have an Edison dentist you can trust look at the problem right away. We'll take the necessary steps to protect your oral health and save the implant where possible.
Maintaining & Caring For Your Dental Implants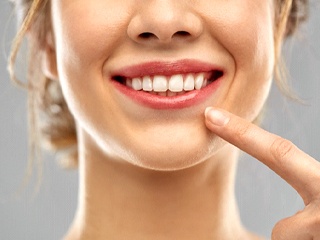 Dental implants are capable of lasting for decades and remaining healthy and functional along the way, but they do require a certain amount of attention every day just like natural teeth. For example, brushing, flossing, and proper diet are just a few of the things to keep in mind following your tooth replacement surgery. You've made an investment, which means you'll want to make the most of it moving forward. Thankfully, Dr. Rosenfeld and his team will gladly provide tips to ensure your dental implant remains healthy and beautiful.
Make Oral Hygiene a Priority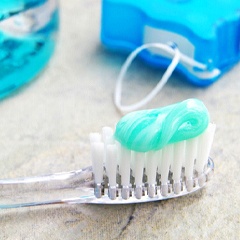 Brushing twice a day and flossing at least once a day are crucial to keeping plaque development from harming the longevity of your dental implants. While the restoration that is attached cannot develop decay, the gum tissue surrounding it can easily become inflamed and infected if you don't make time for oral hygiene. Thankfully, you don't need to do anything special just to keep your dental implant clean and free of plaque.
Eat a Healthy Diet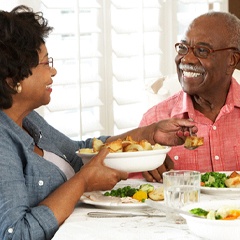 The occasional bag of chips or chocolate bar won't hurt your dental implant much, but you should do everything possible to keep consumption of these foods to an absolute minimum. Your diet should be well balanced in order to keep your mouth healthy as well. That means incorporating foods like fruits, vegetables, lean proteins, and dairy products into your meals. After all, dental implants enable you to eat a more expansive diet, making it easier to get the nutrients you need to be healthy.
Break Bad Habits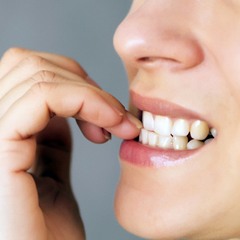 Dental implants are not indestructible, which means you should not be using them to perform tasks that are better suited for a tool. For example, you should be using nail clippers to trim your nails (not biting them), bottle openers to crack open your favorite beverage (not your teeth, which will crack) and using a knife or pair of scissors to open a package in the mail. Not only can the restoration chip or become worn down from misuse, but the implant itself could fail.
Protect Your Dental Implants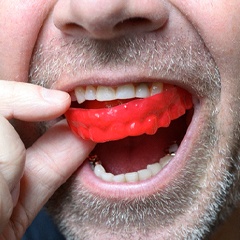 If you enjoy sports, you understand how important it is to have the right protection every time you play. However, that also means giving your smile the protection it needs from blunt force trauma, especially if you enjoy football, basketball, baseball, hockey, boxing, karate, or another activity that could lead to a knocked-out tooth without proper protection. Our office is happy to create a custom-made mouthguard for you to ensure the best protection possible. This also applies if you grind your teeth at night, which can be managed with a custom nightguard.
Schedule Regular Dental Checkups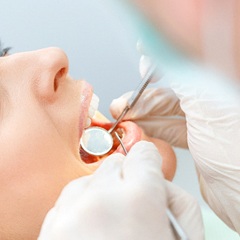 On top of performing detailed exams and professional cleanings, our office will want to pay very close attention to your implant in the long-term, ensuring it remains properly bonded to your bone tissue. Remember, no oral hygiene routine is complete without a regular exam from a dental professional, especially the person who performed your dental implant surgery in the first place!
Dental Implants Post-Op Instructions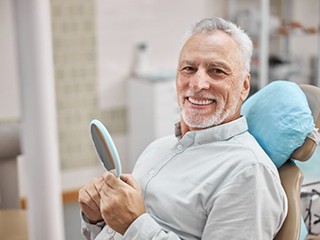 As a Fellow of the International Congress of Oral Implantologists, Dr. Rosenfeld has completed hundreds of hours of advanced training in the field of dental implants. This allows him to surgically place your implants right here in the comfort of our familiar office, making your treatment process incredibly convenient. After your procedure, our team will provide you with personalized guidelines for making a smooth and speedy recovery. Below, you'll find some basic dental implant post-op instructions in Edison and what you can expect throughout the healing process.
What to Do Directly After Dental Implant Surgery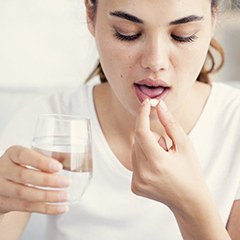 It's important to follow our aftercare guidelines to a tee in order for the implant post to successfully integrate with your jawbone and have the ability to last for decades. After Dr. Rosenfeld has sutured your gum tissue closed, a blood clot will begin forming over the area. Try not to disturb this blood clot; it could prevent your gums from healing around the implant.
To keep the blood clot in place and promote healing, make sure to AVOID:
Drinking through a straw.
Spitting forcefully.
Blowing your nose.
Prodding the surgical site with your tongue or fingers.
Common Side Effects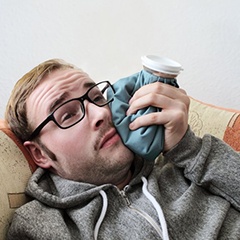 If this is your first oral surgery, it can be hard to tell which symptoms are normal and which of them warrant concern. Any initial discomfort should begin to fade after about two or three days, especially if you take the pain medication that your implant dentist in Edison prescribed for you. If you experience pain that seems to be worsening, please contact our office immediately.
On the day of your procedure, the surgical site may bleed intermittently. We'll instruct you on how and when to change out the gauze pads to minimize bleeding.
You may also experience swelling that can last for up to a week. Placing a cold compress to the outside of your cheek in ten-minute intervals can curb swelling in addition to pain.
Diet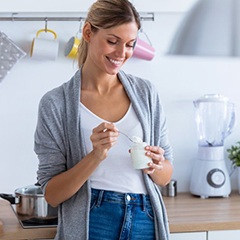 You'll want to stick to a soft food diet for the first week or so after your surgery. Beforehand, we recommend stocking up on soft foods that will keep you full, such as yogurt, scrambled eggs, pasta, soup (as long as it's not too hot), and mashed potatoes. You can gradually begin eating heartier foods as you feel more comfortable, but don't chew directly on the implant site.
Health & Oral Hygiene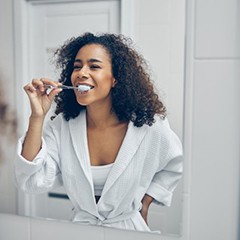 Keeping your mouth clean is essential for your dental implants in Edison to form a strong foundation in your jaw. Starting on the day after your surgery, you can brush and floss as normal, but be careful near the implant site. You should also rinse your mouth with saltwater at least two or three times a day (ideally after eating) to soothe irritates tissues, reduce harmful bacteria, and encourage healing. You can use mouthwash as well, but avoid mouthwash that contains alcohol.
What to Do After Your New Teeth Are Attached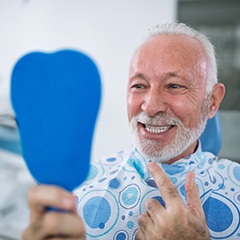 Now that you're fully healed, you're ready to finally have your new pearly whites placed! Once Dr. Rosenfeld secures your crown, bridge, or denture onto your implants, you might experience some mild, temporary sensitivity in your gums. However, this should be easily managed with ibuprofen or other over-the-counter pain medications. Please call us if you notice any bleeding or swelling, as these are abnormal side effects. Other than that, you can care for your new smile as you would your natural one!