Dental Crowns & Bridges in Edison
Why Should I Choose A Metal-Free Dental Crown?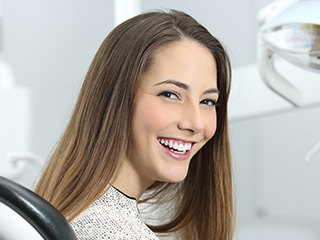 Each tooth in your mouth is divided into two parts. The section below the gum line is called the root, which anchors your tooth into bone tissue, while the portion above the gum line is known as the crown. The crowns of your teeth are what make up your unique smile. Therefore, when you have a tooth with a decayed or damaged crown, repairing that crown in an aesthetically pleasing fashion is important to maintaining the attractive appearance of your smile.
If you've been avoiding a crown or cap because you think they all show big black lines around the gum line or that you'll have to remove a lot of tooth structure, it's time to rethink the issue. At Rosenfeld Dental Associates, our crowns are made of dental porcelain, a strong material that accurately mimics the natural look of a tooth. Contact us today here in Edison, NJ to schedule your first visit.
Dental Crowns Edison Residents Smile About
Metal-free crowns enable our dentists to create the most natural dental restorations possible while conserving tooth structure at the same time. Because there is no metal in the crowns we make, light passes through the special aesthetic, yet ultra-durable porcelain to create an appearance that is like a natural tooth. Shade matching is much easier than with the older, porcelain fused to metal crowns. The dentists often prescribe customized porcelain shades to match existing teeth. These shades are selected in our treatment rooms, which have been equipped with special lighting systems to simulate natural sunlight. Even better, less tooth cutting is usually required to perform these procedures. Modern technological advances in porcelain manufacturing and adhesion have allowed the doctors to work with a number of different metal-free crown systems. They will always choose the one that is right for each particular situation.
Placing a crown usually requires scheduling two appointments at our Edison dental practice. At the first visit, we'll take the necessary steps to prepare your tooth. Impressions and X-rays allow our dental lab to create an exact replica of the size and shape of your tooth. One of our doctors will then file down a minimal portion from the sides and biting surface of your tooth. This is done to make room for the crown to fit evenly alongside adjacent teeth and against the opposing tooth. Another impression ensures that your crown will fit snuggly. At the end of the appointment, the dentist places a temporary crown to protect your prepared tooth. After about two weeks, your permanent crown is sent from the lab and you'll return to our office to have it bonded into place.
Crown and Bridge in Edison
Crowns can also be used as part of crown and bridge therapy to replace missing teeth. Teeth on either side of your missing tooth (or teeth) are outfitted for crowns. In turn, the crowns on these abutment teeth hold pontics, or false teeth, securely in place across the span of missing teeth. Together, the crown and bridge restore complete smiles and renew your ability to speak and eat normally.