Porcelain Veneers in Edison, NJ
How Can Porcelain Veneers Improve My Smile?
When you look in the mirror, what do you see? Is there a happy face with an attractive smile looking back at you? Or can you not even see a smile, because you're too embarrassed to show your teeth—even to yourself! If your teeth are making you self-conscious about your smile, then consider porcelain veneers. Dr. Rosenfeld in Edison, NJ is experienced in the dentistry and artistry of placing veneers that transform unappealing smiles into alluring smiles.
Whether because of the advance of time or unusual wear and tear, teeth can succumb to a number of conditions that ruin their appearance. There are:
Chips and cracks
Broken or fractured teeth
Permanently stained and discolored teeth
Misshaped teeth
Teeth that are slightly crooked
Gaps and irregular spacing between teeth
Individually or collectively, these imperfections can negatively impact your smile and consequently your self-esteem and self-confidence, too. Instead, our doctor Dr. Rosenfeld and his compassionate staff want you to have a smile that gives you the confidence to face the world and that image in the mirror you see every day.
In Edison, Porcelain Veneers Renew Smiles
Your journey toward a new smile begins with a consultation. We will first examine your teeth and gums to make sure they are all healthy. Then, we'll take photographs, digital X-rays and impressions in order to get a comprehensive visualization of your teeth the way they are currently. This allows the dentist to better plan the correct size and shape of your veneers. As for color, your veneers can boost the whiteness of your smile, too. In fact, you may want to schedule professional teeth whitening for your natural teeth once your veneers are in place. To receive your veneers, you'll need two conveniently scheduled appointments. At the first, the dentist will prepare your teeth by removing a very thin layer of enamel from your teeth; this is done to make room for the veneers. While you wear a set of temporaries, your permanent veneers are manufactured in our trustworthy dental lab. When completed, you'll return to our Edison dental practice to have your customized porcelain veneers bonded to your teeth.
Smile with Porcelain Veneers in Edison
Porcelain veneers can dramatically alter the appearance of your teeth, smile, and face. These extremely thin, well-crafted, and customized porcelain pieces affix to the front surfaces of teeth, creating an improved smile.
Porcelain Veneers are Superior Dental Restorations
There is a minimum amount of tooth reduction necessary in most cases.
The surrounding gum tissue is not invaded.
Spaces between teeth can be closed without braces or crowns.
Crooked teeth can be put into proper alignment without braces or crowns.
Darkened teeth can be made lighter.
Fractured teeth can be restored to beauty without the invasive cutting required to make dental crowns.
Beautiful results can be achieved over a very short period of time – even overnight if necessary!
The life expectancy of veneers is much longer than bonding.
Porcelain veneers are extremely resistant to staining or fracture and do not discolor over time.
Porcelain Veneers FAQs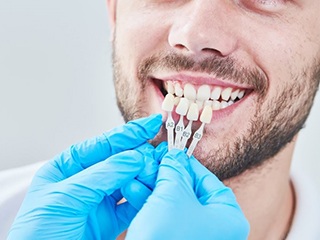 Every year, more and more patients choose porcelain veneers in Edison to instantly brighten their smiles. It's not hard to see why, what with their incredible versatility. With their growing popularity comes an increase in the number of common questions and concerns about the treatment. That's why, for your convenience, we've answered some frequently asked questions regarding porcelain veneers in the section below.
How Long Do Porcelain Veneers Last?
As with just about any dental restoration, the lifespan of your veneers is highly dependent on how well you maintain them. However, dental porcelain is durable enough that your veneers should last 10-15 years on average.
How Do I Take Care of My Veneers?
Caring for your veneers doesn't involve anything you shouldn't already be doing to keep your natural teeth in good condition. To ensure your veneers last, do the following:
Brush twice a day with a fluoridated toothpaste.
Floss at least once daily, preferably before bed.
Limit your consumption of foods and drinks that are extremely sugary or acidic.
Wear a mouthguard if you play sports and a nightguard if you suffer from bruxism (nighttime teeth grinding).
Avoid chewing on particularly hard objects, such as pens, ice, popcorn kernels, or fingernails.
See your dentist in Edison for a checkup and cleaning every six months.
Does Getting Veneers Hurt?
You shouldn't feel pain while getting your teeth prepared or your veneers placed. This is because we use a local anesthetic to numb your mouth before your treatment begins. However, you may feel some residual soreness for a day or two afterward, especially if you received several veneers at once. Taking a store-bought pain medication like acetaminophen or ibuprofen as needed should be more than enough to alleviate this soreness.
Will People Be Able to Tell That I Have Veneers?
Some people are hesitant to receive veneers because they're worried their teeth will look "fake." This phenomenon is sometimes referred to as "chiclet teeth." While veneers from several decades ago may have looked slightly unnatural, modern veneers are customized to resemble the rest of your pearly whites. Multiple factors, including your face shape and skin tone, are taken into account when we're designing your veneers. Once these restorations have been bonded into place, only our team should be able to tell them apart from your natural teeth!
How Much Do Veneers Cost?
Every single veneer is made differently. As such, there is no one fixed price of veneers. Your cost will depend on various factors, such as how many veneers you're getting, on which teeth they're being placed, and whether you'll need any preparatory treatments like fillings beforehand. During your consultation, our team can provide you with a personalized cost estimate. Contact us today to schedule yours!