Sedation Dentistry – Edison, NJ
Feel At-Ease with Dental Sedation
The Dental Organization for Conscious Sedation (DOCS Education), which is an organization of dental professionals that are committed to providing patients with safe and relaxing care, estimates that 30% of the adult population don't see the dentist because they are fearful. For some, this fear is rooted in a memory of a childhood visit to the dentist that was less than pleasant, while others feel overstimulated by the sights and sounds of the dental office. In any case, our friendly and understanding team is happy to help you feel comfortable during your appointment, allowing you to do what's right for your oral and overall health.
Why Choose Rosenfeld Dental Associates for Sedation Dentistry?
Dentist with Advanced Training & Experience
Welcoming Patients of All Ages
In-Network with Several Insurances
Nitrous Oxide Sedation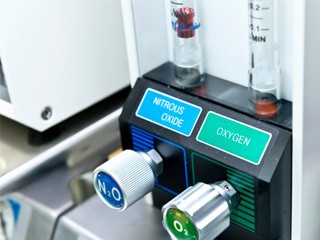 Dr. Rosenfeld is pleased to offer his patients fast-acting, in-office nitrous oxide sedation. It provides near-immediate relief of anxiety and fear for patients who suffer from it, making their experience more relaxing and positive.
To administer the sedation, we'll secure a small mask over the nose that will allow you to breathe in a colorless, odorless gas. Within a few moments, you'll start to feel a wave of relief spread throughout your body. Once your procedure or cleaning is complete, we'll remove the mask and have you breathe in pure oxygen to help minimize any side-effects you may experience due to the sedation. As soon as the effects wear off, which can take as little as a minute, you'll be able to go on with your day as you normally would.
Are You a Good Candidate for Sedation Dentistry?
Most patients are good candidates for dental sedation. However, those who are in their first trimester of pregnancy, have emphysema, or those who have recently had ear surgery may not be good candidates. Dr. Rosenfeld and our team will discuss your medical history with you before administering any kind of sedation to make sure it's safe.
Nitrous oxide sedation is a great option for those who:
Have a fear of needles
Have past trauma relating to a dentist
Have a sensitive gag reflex
Require a lengthy or multiple dental treatments
Have mild to moderate dental anxiety
Have difficulty sitting in the treatment chair
If you relate to any of these, we invite you to call our office so we can help make the proper accommodations to ensure your comfort during your upcoming visit.