Creating Straight Smiles in Edison, NJ with Invisalign®
Can I Straighten My Smile without Metal Braces?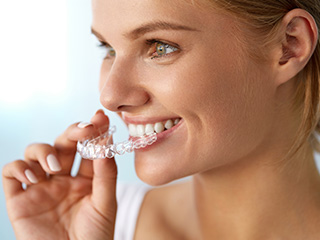 Does an uneven smile make social situations a challenge for you? Do you dream of one day having straight, beautiful teeth? Your dreams can finally come true with Invisalign clear braces.
Invisalign Provides Discreet Orthodontic Treatment
Invisalign isn't your typical braces solution. Instead of using metal brackets and wires to move teeth into their ideal alignment, Invisalign relies on a series of clear, custom made aligners. As a result, you can enjoy treatment that's more discreet than traditional braces. For a busy adult who wants to preserve their professional image, that's a welcome benefit.
However, the fact that Invisalign's aligners are clear is only the most noticeable benefit in a line of other great benefits. Patients who choose Invisalign from Resnick & Rosenfeld DDS here in Edison office will be just as delighted to find out that Invisalign's aligners are also removable!
What does that mean for you?
It means having the freedom to eat all of your favorite foods – no exceptions! The same can't be said about traditional braces, unfortunately. Brackets and wires make eating certain foods difficult or impossible. Traditional braces can also be difficult to clean. Food particles can become trapped in hard-to-brush areas, exposing you to an increased risk of tooth decay or gum disease.
Just as your Invisalign clear braces can be taken out for eating, they can also be taken out for brushing and flossing. That makes vigorous home care much easier and will benefit your smile in the long run.
With all this in mind, your only question at this point might be: what do I have to do to get started? The answer is simple – you just need to get in touch with our Edison dental office and set up a consultation visit. During your consultation, we'll talk to you about your smile and take a thorough look at how it's doing. Then, we can get right to work on creating your treatment plan. Your treatment plan will be the roadmap the Invisalign lab will use as they create the aligners that will gradually and comfortably carry you toward your goal of a healthier, more beautiful smile. Contact us today to schedule a visit!