Invisalign – Edison, NJ
Choose the Clear Choice for a Straight Smile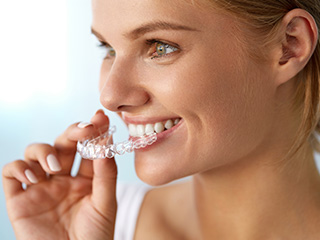 How often do you hide your teeth in social situations because you are insecure about your alignment issues? Even one time is too many. Although you have always wanted a straight smile, you do not want to deal with the restrictions and visibility of traditional braces. What if you could get the results you want using a nearly invisible solution? Now you can with Invisalign in Edison. You can join more than 2.5 million teens and adults who have already made the choice correct their alignment concerns using the clear aligners.
Benefits of Invisalign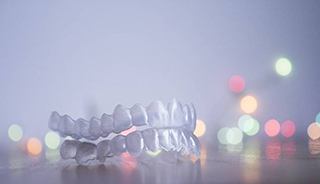 Invisalign is far different from traditional orthodontic systems because it does not rely on brackets or wires to move your teeth. Instead, you wear custom-made plastic aligners to gradually reposition them. This gives you a discreet solution to improve your oral health and your confidence using a clear choice.
The FDA-approved treatment is nearly invisible, so you will not need to worry about any additional attention being drawn to your teeth. With no wires and brackets used, you will also enjoy a more comfortable solution. There will not be any irritation to the inside of your lips or your cheeks.
Since the aligners are removable, it resolves many of the common disadvantages of traditional braces. There are no dietary restrictions; however, you should not eat or drink anything except water while wearing them.
Oral hygiene is also easy because nothing is attached to your teeth. Simply brush and floss as you normally do. You will need to take a few minutes each day to clean the aligners with a clear antibacterial soap and a soft-bristled toothbrush.
In as little as one year, you will have the straight, beautiful smile you have always wanted.
How Invisalign Works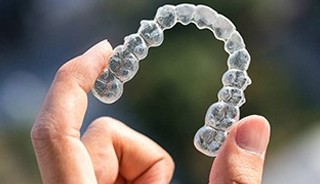 Although there are few limitations to their use, your Edison dentist will perform a consultation to ensure you are a candidate for the clear aligners. They can be used to correct gaped, tilted, and rotated teeth while also aligning several bite issues.
3D scans of your mouth are taken to create your series of custom-made aligners. The dental lab will design them to meet your exact specifications to gradually move your teeth over time. You wear each one in the series for one to two weeks before switching to the next. On average, it takes about one year to finish your treatment. When it is complete, you will need a retainer to prevent your teeth from moving back to their previous positions.
During your treatment, you will enjoy fewer trips to the dentist because you do not need any adjustments. This provides a convenient solution for busy adults on the go.
Invisalign Technology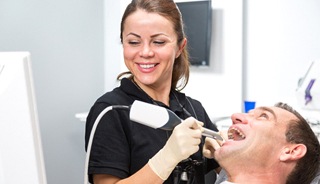 One of the reasons why the Invisalign treatment is so successful is the technology that supports it. In our office, we use the ultra-advanced iTero Element 5D intraoral scanner. During your consultation, we will use the scanner to capture an extremely detailed, three-dimensional impression of your teeth. Then, we can utilize the scanner's accompanying software to show you a digital preview of how Invisalign in Edison will shift your smile and give you the straight, well-aligned set of pearly whites you've always wanted. The Invisalign laboratory will use the data from the digital scan to fabricate aligners that are precision-made for your unique dental structures.
Invisalign Provider in Edison, NJ
Our dental team at Rosenfeld Dental Associates are trained and certified to provide Invisalign. We will help you get a flawless smile using the most preferred orthodontic systems. If you are ready to start your journey to improved self-esteem, contact our office today to see if Invisalign is right for you.
Invisalign FAQs
When people think of orthodontic braces, they usually picture a smile covered with metal brackets and wires. However, there is a good alternative. Invisalign uses clear plastic aligners to move your teeth. These braces are much more discreet, and they can often address many of the same orthodontic problems as traditional braces. If you're considering Invisalign in Edison, then Dr. Rosenfeld is here to help. Let's begin by answering some of the most commonly asked questions about Invisalign.