Teeth Whitening – Edison, NJ
What Are My Teeth Whitening Options?
Yellow, brown, gray, or stained teeth can negatively impact your appearance and your confidence. The good news is that stained teeth can be whitened, resulting in a brighter, more attractive smile. Even teeth darkened by medications like tetracycline can be restored to a natural-looking white. That's the power of cosmetic teeth whitening from our Edison cosmetic dentist. Contact us today to schedule a visit!
Why Choose Rosenfeld Dental Associates for Teeth Whitening?
Completely Personalized Cosmetic Treatments
Professional-Grade Bleaching Agents for Amazing Results
Highly-Experienced Cosmetic Dentist
Who Is a Good Candidate for Teeth Whitening?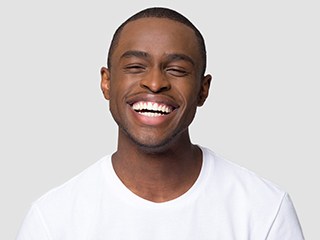 Have you been struggling with discolored or stained teeth? If you're unhappy with the way your smile looks, then you're likely a good candidate for teeth whitening. That said, you'll need to undergo an initial consultation with our team so that we can check your oral health. The last thing we'd want is to brighten your smile while there's an underlying problem being left unchecked. We'll want to address any current issues before moving forward with your cosmetic treatment.
How Does Teeth Whitening Work?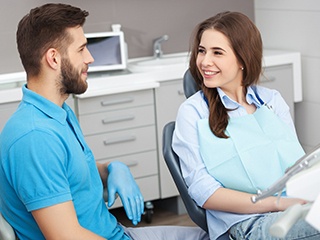 During a consultation visit with our Edison dental team, Dr. Rosenfeld will assess your individual needs and talk to you about your goals for your smile. As part of this consultation, we can help you decide which of our two teeth whitening options will best fit your needs. Our options include in-office bleaching or at-home whitening. Regardless of which option you choose, you can look forward to achieving bright, professional results without any loss of tooth structure.
Take-Home Teeth Whitening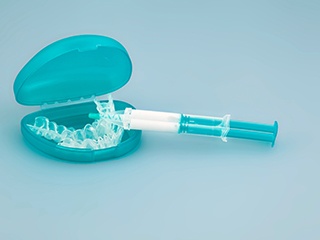 If you would prefer to whiten your smile on your schedule, our Edison dental office's take-home bleaching kit may be the perfect solution for you. As part of your bleaching kit, we'll create custom-made teeth whitening trays for you to use with a specially formulated whitening gel. To whiten your smile, just line your trays with the professional-strength gel and wear them for the amount of time our Edison office has prescribed. In a period of one to two weeks, your smile will look brighter and much more glamorous.
In-Office Teeth Whitening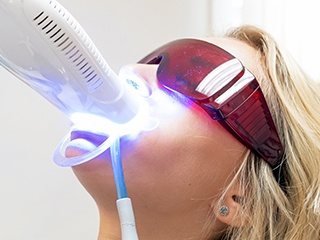 Using our in-office bleaching option, patients can experience fast, dramatic teeth whitening results often in as little as an hour. During that hour, a special bleaching gel will go to work on your tooth stains, lifting discoloration caused by foods, tobacco use, the aging process, and common beverages like coffee, red wine, fruit juice, soda, and more. The results of your in-office bleaching treatment will be long-lasting, especially when paired with an at-home teeth whitening kit, which you can use to keep your smile looking like new.
Tips for Maintaining Your Brighter Smile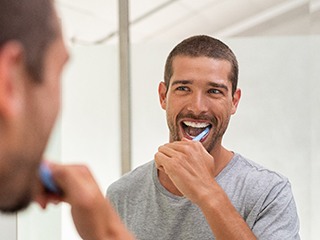 Once you've achieved the pearly whites you've always wanted, you'll want to make the most of your dazzling results. Here are several ways to maintain your newly brightened smile:
Brush, floss, and rinse with mouthwash every day
Avoid overexposing your teeth to dark-colored drinks and meals, like coffee and chocolate
Quit poor oral habits like using your teeth as tools and smoking
Visit your dentist for checkups and cleanings every six months
Understanding the Cost of Teeth Whitening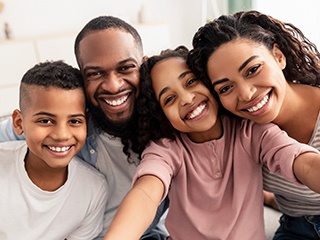 To determine the cost of teeth whitening in Edison, you must schedule a consultation with a member of our team. This is the only way we can prepare a treatment plan as well as formulate an estimate that encompasses the various factors that will be determined during your appointment. A member of our staff will work to identify ways you can save so that your brighter smile doesn't leave you with empty pockets.
Factors that Affect the Cost of Teeth Whitening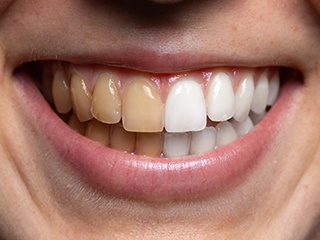 During your consultation with us, you can expect that we will consider the following factors:
Additional Treatment – If additional oral health problems exist such as gum disease or tooth decay, we will need to administer appropriate treatment before moving ahead with teeth whitening.
Severity of Stains – After thoroughly examining your smile, we will determine where the stains exist (above or below the surface) and how extensive your treatment will need to be.
In-Office or Take-Home – One of the leading factors that will determine your overall cost is whether you choose to pursue in-office or take-home whitening.
Types of Teeth Whitening: What Do They Cost?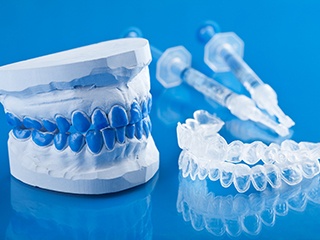 There are countless ways you can whiten your teeth; however, some solutions are less effective than others. While over-the-counter products such as gels, strips, one-size-fits-all trays, and whitening pens exist, they often lack the essential, powerful ingredients that are designed to remove stains. What you're left with is less money in your pocket and a lackluster, uneven, and highly sensitive smile.
If you'd rather save the $20-$30 for gels or strips or even the $100 you might spend for store-bought trays, consider in-office or take-home professional teeth whitening. While it is true that in-office treatment can cost between $400-$500, and take-home kits can range from $200-$300, you will walk away with results you're proud to show off to others.
Fast Teeth Whitening VS Inexpensive Teeth Whitening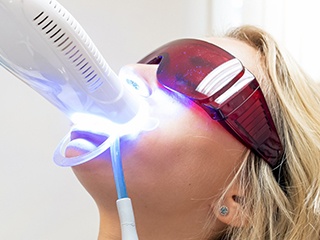 It's natural to want results right away. After all, we live in the age of instant gratification. However, when it comes to teeth whitening, you may not be able to see a whiter smile in seconds, but you can see one in about an hour.
Just because it takes minimal time in the dentist's chair to have your teeth whitened doesn't mean that it's not worth the investment. Of course, making sure that you see a trusted and skilled cosmetic dentist who can administer this type of treatment is essential. But with professional application comes cost, which can be a deterrent for many. However, choosing inexpensive whitening solutions will often leave you wasting your hard-earned dollars on a product that doesn't produce high-quality results.
The investment to undergo professional teeth whitening is one you will not regret, especially when you see just how beautiful your smile can be.
Options for Making Teeth Whitening Affordable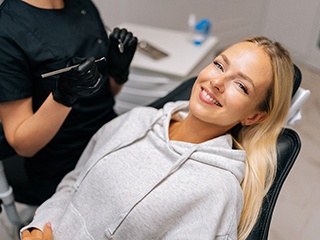 At Rosenfeld Dental Associates, we understand that certain services are not covered by dental insurance. This is why we are pleased to partner with CareCredit. This third-party financier makes it easy for eligible patients to have access to low-interest or no-interest payment plans. Similar to a credit card, you pay for your treatment and then choose how you would like to manage your monthly payments over time. This allows you to stay on budget and still receive a more confident smile.
Teeth Whitening FAQs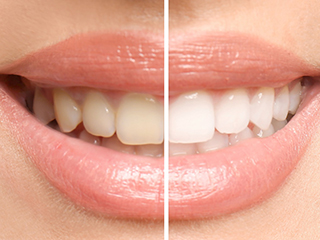 Teeth whitening is often one of people's first experiences with cosmetic dentistry, which means that patients often have more questions than usual about what they can expect from the procedure. Thankfully, the treatment is incredibly easy, painless, and shockingly effective, making it an excellent way to get started.
That said, we'll be happy to answer any questions you have when we meet you in person, and in the meantime, here are answers to some of the most common ones you get.
What's the Difference Between Professional and Store-Bought Teeth Whitening?
You've probably noticed that there are a fair amount of over-the-counter methods of teeth whitening. These are often considerably cheaper than what you'd get from us, which makes them a tempting alternative.
However, these kits often contain one-size-fits-all trays and heavily diluted whitening solutions, which means that they're likely to produce sub-par results. Worse, you may accidentally overuse these products in order to get the smile you're looking for and wind up with sensitive teeth.
Does Teeth Whitening Damage Enamel?
Teeth whitening is completely safe and has no chance of damaging healthy enamel. However, if you have oral health problems like cavities or gum disease, the chemicals in the whitening solution could potentially cause complications. For that reason, we will perform a thorough exam before giving you any kind of whitening treatment.
Does Teeth Whitening Work on Dental Crowns or Veneers?
Unlike enamel, veneers and dental crowns aren't porous enough to be affected by a whitening solution. In fact, the hydrogen peroxide solution may actually damage the bonding solution holding the restoration to the tooth. For that reason, you should tell us if you have a restoration or a veneer in your mouth before starting whitening treatment.
If you're unhappy with the color of your restoration, there's not really a good way to make it whiter except to replace it.
Is Teeth Whitening Permanent?
Teeth whitening isn't permanent, but it can last for a surprisingly long time if you take care of your teeth well after the treatment. Depending on the quality of the maintenance you perform, you can expect the results from teeth whitening to last for anywhere from a few months to a few years.
If you want to make the results last longer, you should make sure that your oral hygiene is as good as it can be. Moreover, you may want to avoid foods that can discolor your teeth like coffee, red wine, or dark berries.