Dentures – Edison, NJ
Restore Your Smile & Your Confidence
When you have missing teeth, your smile and your overall wellbeing will be negatively impacted. You may find, for instance, that you have some difficulty eating certain foods or speaking clearly. You may also find that your self-esteem has suffered. These are discouraging changes – no doubt about it – but you should know that there is hope for your smile. As dentistry changes, it's possible for Dr. Rosenfeld to provide Edison-area patients with dentures that are more lifelike and comfortable than ever before.
Types of Dentures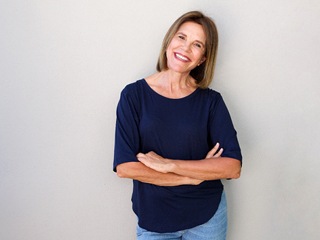 At our Edison dental office, we offer a comprehensive selection of denture options. Our restorative dental options include partial dentures, full dentures, and implant-supported dentures. Keep reading to learn more about each type.
Partial Dentures
Partial dentures, which are often just called partials, are made up of multiple teeth on a gum-colored base. Because they're designed to replace multiple teeth, the replacement teeth are typically spread out across this base instead of falling in a row. Partials are removable and are held in place with simple clips or brackets.
Full Dentures
As with a partial, a full denture features replacement teeth on a gum colored base. The most obvious difference, though, is that a full denture replaces an entire top or bottom row of teeth. The other major difference between a partial and a full denture is that a full denture is held in place by natural suction or a denture adhesive.
Implant-Supported Dentures
As an alternative to traditional partial dentures and full dentures, patients at Rosenfeld Dental Associates can also pursue implant-supported partial or full dentures. Implant-supported dentures can provide patients with results that are more natural and more permanent.
Who is a Good Candidate for Dentures?
The best way to know if dentures are right for you is to visit our office for a consultation. Dr. Rosenfeld will carefully examine your mouth and the overall condition of your oral health. He will also take into account your previous medical history. From there, he'll be able to provide you with a personalized treatment plan, including the type of denture that he recommends. Usually, candidates for dentures will have:
Multiple missing teeth
Healthy gums (for future treatment of gum disease)
A commitment to a good oral healthcare routine
One of the reasons why dentures are so popular is that they can be used to restore an entire smile, or random gaps in your grin – they're completely custom-made based on your needs. If it sounds like dentures are right for you, please don't hesitate to contact our office.
Benefits of Dentures
We offer full, partial, and implant dentures because of the many advantages they help our patients enjoy, including:
Appearance: Your smile is the first physical attribute that someone notices about you. Dentures allow you to have a beautiful, natural-looking smile that is ready to show off.
Confidence: Have you been hiding your smile due to gaps? Dentures will restore your full, amazing set of teeth to give you a boost of confidence in any social or professional setting.
Diet: Avoiding certain foods because of your missing teeth is not only a hassle, but it can also affect your overall health as well as your quality of life. Dentures allow you to eat more of your favorite foods for a nutritious and delicious diet.
Dental health: If you have natural teeth remaining, a partial denture will ease pressure and unnecessary wear and tear to keep your smile healthy.
Cost: Dentures are often more affordable than other solutions like dental implants, allowing you to achieve a full and beautiful smile without breaking the bank.
Denture Maintenance
Your dentures will last for 5 to 7 years as long as they are cared for properly! No two smiles are the same, which is why we'll give you specific instructions based on your needs. That said, here are a few key steps to make your dentures last:
Remove full dentures at night to soak in water or soaking solution. This gives your gums a break and makes it easier to remove plaque and food debris from your prosthesis.
Clean your dentures daily with a soft-bristled toothbrush and non-abrasive denture cleaner or room temperature water. Handle your dentures carefully and never use hot water because it could permanently warp the prosthetic.
Remove and rinse your dentures after eating to wash away food debris and bacteria.
Visit our office for routine checkups and cleanings to ensure that your dentures are fitting and functioning normally.
Dentures FAQs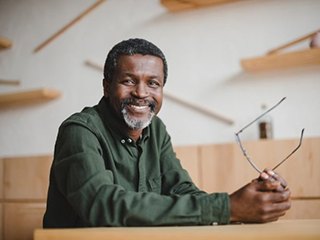 Extensive tooth loss can take quite a toll on your confidence and self-esteem. That's why Dr. Rosenfeld and the rest of our team strive to create the perfect set of dentures in Edison to help you smile brightly again. To give you a better idea of what to expect with this treatment, we've included the answers to a few frequently asked denture questions below. Of course, we're also happy to answer any additional questions over the phone or at a consultation.
How Long Will You Have to Wait to Get Dentures After Your Teeth Are Pulled?
The average wait time between getting teeth removed and receiving your denture is six to eight weeks. However, this timeline can vary based on your specific circumstances. It may seem like a long time to wait without teeth, but your gums need time to heal from the tooth extractions. In some cases, you can receive "immediate dentures," which are placed right after your teeth are pulled – the downside is that they will need to be adjusted frequently during the healing process as your jawbone changes shape.
If you're receiving implant dentures, you'll have to wait at least four to six months for osseointegration – the process by which the implants merge with your jawbone – to occur before your denture dentist in Edison can place your new teeth. The wait is long, but the security that implant dentures provide makes them worth it in the end.
Will It Hurt to Get Dentures?
When you first get dentures, your mouth will take some time to get used to the new appliance inside of it. As a result, you may experience minor gum irritation. This adjustment process usually only lasts for a few weeks, but for others, it can take months. If you received a new denture after wearing an old one previously, it may take longer for your mouth to adjust.
Is It Hard to Talk with Dentures?
Similarly, it will take a while to get used to talking with dentures. After all, you were used to speaking with either your natural teeth or no teeth. Many people with dentures initially speak with a lisp due to changes in their palate, but this will fade with time.
The best way to speed up the adjustment process is to practice speaking aloud – slowly at first, and then gradually speed up. Applying a bit of denture adhesive can help keep them stable while you're still adjusting.
Can You Still Eat Steak with Dentures?
Dentures can make it difficult to chew tough meats like steak, but it can still be done if you take the proper precautions. Tenderloin and other beef cuts don't have as many muscle fibers or connective tissue, making them easier to chew. Additionally, cutting the meat into small, bite-sized chunks will help. Lastly, make sure your dentures fit properly. Denture adhesive can help them stay in place as you're eating.