Restoring Edison Smiles with Full & Partial Dentures
Are Full & Partial Dentures the Right Choice for My Tooth Loss?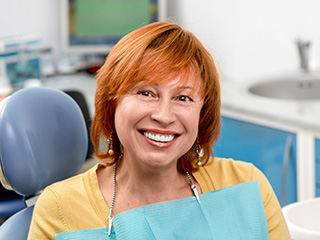 When you have missing teeth, your smile and your overall wellbeing will be negatively impacted. You may find, for instance, that you have some difficulty eating certain foods or speaking clearly. You may also find that your self-esteem has suffered. These are discouraging changes – no doubt about it – but you should know that there is hope for your smile. As dentistry changes, it's possible for your doctors to provide Edison-area patients with dentures that are more lifelike and comfortable than ever before.
Comprehensive Denture Options
At our Edison dental office, we offer a comprehensive selection of denture options. Our restorative dental options include partial dentures, full dentures, and implant-supported dentures. Keep reading to learn more about each type.
Partial Dentures
Partial dentures, which are often just called partials, are made up of multiple teeth on a gum colored base. Because they're designed to replace multiple teeth, the replacement teeth are typically spread out across this base instead of falling in a row. Partials are removable and are held in place with simple clips or brackets.
Full Dentures
As with a partial, a full denture features replacement teeth on a gum colored base. The most obvious difference, though, is that a full denture replaces an entire top or bottom row of teeth. The other major difference between a partial and a full denture is that a full denture is held in place by natural suction or a denture adhesive.
Implant-Supported Dentures and Partials
As an alternative to traditional partial dentures and full dentures, patients at Resnick & Rosenfeld DDS can also pursue implant-supported partial or full dentures. Implant-supported dentures can provide patients with results that are more natural and more permanent.