Dentures – Edison, NJ
Restore Your Smile & Your Confidence
When you have missing teeth, your smile and your overall wellbeing will be negatively impacted. You may find, for instance, that you have some difficulty eating certain foods or speaking clearly. You may also find that your self-esteem has suffered. These are discouraging changes – no doubt about it – but you should know that there is hope for your smile. As dentistry changes, it's possible for Dr. Rosenfeld to provide Edison-area patients with dentures that are more lifelike and comfortable than ever before.
Who's a Good Candidate for Dentures?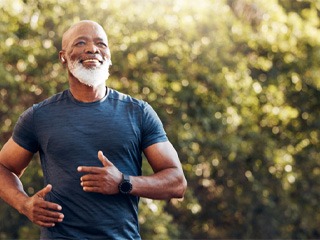 Almost anyone with any number of missing teeth can potentially be eligible for personalized dentures. Dr. Rosenfeld can check to see if you're a good candidate for the treatment if you schedule a consultation at our Edison office. Even people who don't currently have enough healthy gum tissue and jawbone might still be able to get dentures after certain procedures have been completed; we can create a more detailed treatment plan after examining your mouth.
Effects of Missing Teeth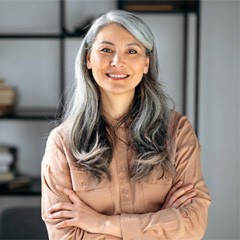 There's more than one reason why you might need to replace multiple missing teeth, with some of the most common examples being advanced gum disease, extensive tooth decay, and injuries involving the mouth. Regardless of why you've lost your teeth, though, you can expect to experience the following repercussions:
Your jawbone may start to shrink now that it's no longer receiving stimulation from the roots of your teeth.
As a result of your weakened jawbone, you'll be more likely to suffer from further tooth loss.
An incomplete smile can limit the kinds of foods you're able to enjoy.
You might find it difficult to pronounce certain words.
You may start to feel less confident about your appearance.
What Qualifies You for Dentures?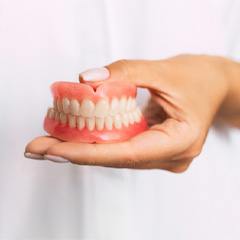 Even if you're not sure that dentures are the best choice for you, it's always worth taking the time to set up a consultation with our team so that we can evaluate your situation. In general, dentures can be a great option if you've lost multiple teeth, are experiencing tooth sensitivity, and are suffering from a significant amount of tooth decay.
Keep in mind that there are different kinds of dentures that you might be eligible for – namely partial dentures, full dentures, and implant-supported dentures. Once we've examined your mouth, we'll be able to recommend the kind of denture that is best suited for your smile.
Alternative Tooth-Replacement Options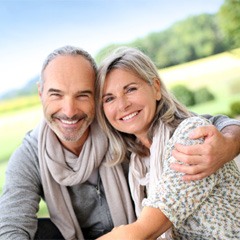 Dentures are one of the most well-known solutions for missing teeth, but what if it turns out that you aren't a good candidate for them? Our practice has a couple of alternatives that you may be able to consider when dentures aren't the best choice:
Dental Bridge: To have a dental bridge placed, you need to be missing at least one tooth or a few consecutive teeth; you also need to have healthy teeth on either side of the space that needs to be filled. A bridge is made up of two crowns and at least one prosthetic tooth. By attaching the crowns to your remaining teeth, the prosthetics between them can close the gap.
Dental Implants: A dental implant is a titanium post that can keep new teeth anchored to your jawbone. You need to have a certain level of bone density in your jaw to have implants placed. While dental implants do cost more than traditional dentures, they also have a longer lifespan.
Learn More About Dental Bridges
Types of Dentures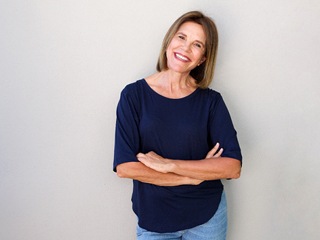 At our Edison dental office, we offer a comprehensive selection of denture options. Our restorative dental options include partial dentures, full dentures, and implant-supported dentures. Keep reading to learn more about each type.
Partial Dentures
Partial dentures, which are often just called partials, are made up of multiple teeth on a gum-colored base. Because they're designed to replace multiple teeth, the replacement teeth are typically spread out across this base instead of falling in a row. Partials are removable and are held in place with simple clips or brackets.
Full Dentures
As with a partial, a full denture features replacement teeth on a gum colored base. The most obvious difference, though, is that a full denture replaces an entire top or bottom row of teeth. The other major difference between a partial and a full denture is that a full denture is held in place by natural suction or a denture adhesive.
Implant-Supported Dentures
As an alternative to traditional partial dentures and full dentures, patients at Rosenfeld Dental Associates can also pursue implant-supported partial or full dentures. Implant-supported dentures can provide patients with results that are more natural and more permanent.
Benefits of Dentures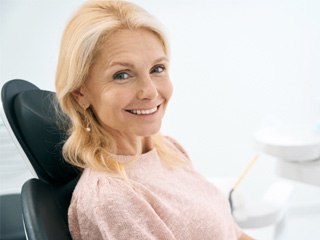 The benefits of dentures are many. When choosing a tooth replacement solution that offers improved oral health and beautiful aesthetics, you cannot go wrong with these tried-and-true solutions. When meeting with your dentist to discuss your options, you will likely receive a breakdown of the various advantages you can expect to enjoy when choosing dentures to restore your smile.
Psychological Benefits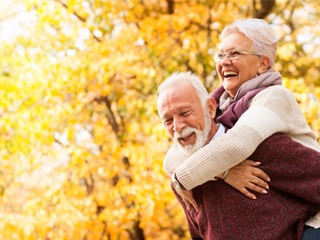 Those suffering from tooth loss often have trouble mentally accepting their situation. As a result, they may feel depressed and have low self-esteem. Fortunately, dentures can change that by rebuilding smiles affected by missing teeth. Instead of retreating from social activities, you can embrace a better quality of life that provides greater confidence so that you can feel more comfortable taking chances in your personal and professional life. With dentures, you'll also enjoy life with less anxiety about your appearance, how you speak, and what you eat.
Clear Enunciation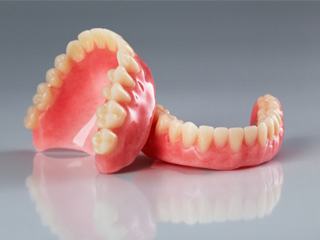 Without a full set of teeth, speaking certain words and syllables can be difficult. Because you use your tongue and teeth to formulate certain sounds, this can become challenging if you lack a complete smile. However, once dentures are put into place, you can begin to enunciate more clearly so that others can easily understand what you are saying. It may take some time in the beginning, as most patients go through an adjustment phase, but in no time at all, you can expect to feel confident and comfortable speaking once again.
Improves Nutrition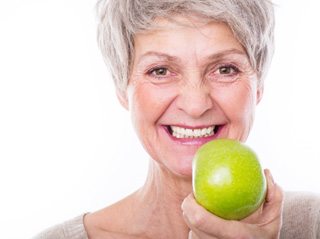 Without a full set of teeth, eating certain foods is impossible. Raw fruits and vegetables and proteins are often too hard to chew. This can lead to malnutrition and indigestion. But if you opt for dentures to replace your missing teeth, you'll discover that your bite and chewing power are partially restored, making it easier to eat and expanding your nutrient-rich possibilities. As a result, your body will benefit because of the added nutrients you're consuming to properly fuel your overall health and wellness.
Preserves Oral Health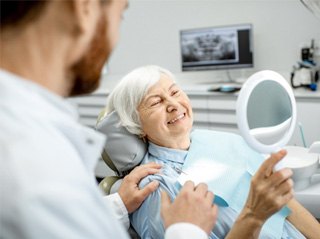 If you're only receiving a partial denture, you'll find that your natural, healthy teeth remain firmly in place. This is often not the case when missing teeth remain untreated for prolonged periods. These teeth can begin to shift out of alignment, causing orthodontic treatment later on. However, dentures fill in the gaps, keep natural teeth in place, and serve as an additional point of contact for teeth when biting down. This works to alleviate the pressure placed on healthy teeth.
Expands Opportunity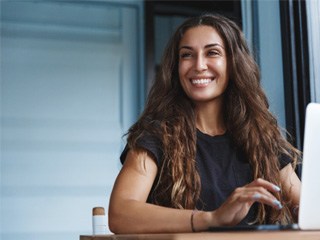 Because your smile is often the first thing people notice about you, you'll want to keep it looking and feeling its best. According to a study published in 2019, researchers discovered that employers were unlikely to hire potential candidates if they lacked proper oral health. With dentures, you can maintain confidence when walking in for a job interview or meeting your in-laws for the first time. You might even land a sale after your big pitch thanks to your award-winning smile.
Denture Maintenance
Your dentures will last for 5 to 7 years as long as they are cared for properly! No two smiles are the same, which is why we'll give you specific instructions based on your needs. That said, here are a few key steps to make your dentures last:
Remove full dentures at night to soak in water or soaking solution. This gives your gums a break and makes it easier to remove plaque and food debris from your prosthesis.
Clean your dentures daily with a soft-bristled toothbrush and non-abrasive denture cleaner or room temperature water. Handle your dentures carefully and never use hot water because it could permanently warp the prosthetic.
Remove and rinse your dentures after eating to wash away food debris and bacteria.
Visit our office for routine checkups and cleanings to ensure that your dentures are fitting and functioning normally.
Understanding the Cost of Dentures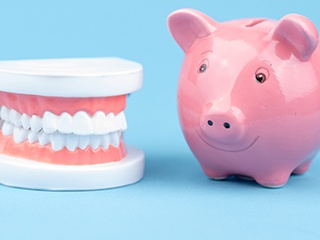 After learning more about dentures, you're probably more excited than ever to start rebuilding your smile. However, you may be wondering about the cost of dentures in Edison before you decide to move forward with the process. During your consultation, our team at Rosenfeld Dental Associates will conduct an oral examination and explain which factors will affect the final price. Following the appointment, you'll have a better understanding of what you can expect to pay for your treatment.
Factors That Affect the Cost of Dentures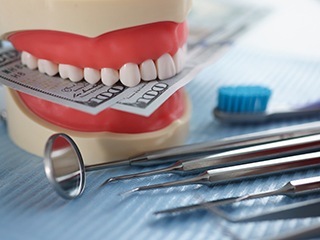 Multiple considerations can influence the price of dentures in Edison, including:
Any work needed beforehand like tooth extractions or periodontal therapy
The number of teeth you're missing
The type of acrylic used for the base (part that is dyed to match color of gum tissue)
The materials your denture will be made of (usually porcelain or acrylic)
Is cost a priority? If so, you may be tempted to opt for cheaper dentures. Even though the upfront cost is certainly lower, they tend to break easily and require replacement much sooner than you'd expect. That's why quality should always be of utmost importance, regardless of the cost.
Are Implant Dentures More Expensive?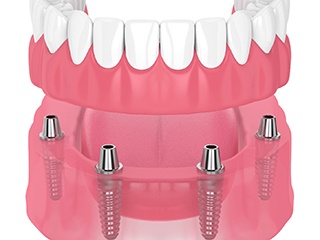 Yes, implant dentures are generally more expensive than traditional ones. However, there's a good explanation for that. They require oral surgery and the placement of multiple dental implants, making them more reliable for everyday use since they do not shift out of place. Many patients discover this method of tooth replacement is well worth the investment because of several tremendous benefits.
Not only do implants stimulate the jawbone, but they can last decades or even a lifetime with proper care and maintenance with help from your denture dentist in Edison. That means you won't have to worry about replacing your dentures nearly as often!
Does Dental Insurance Cover Dentures?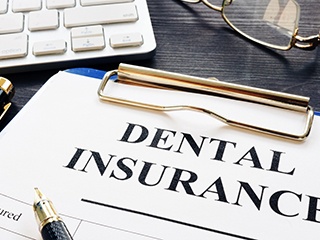 Dentures are considered a major procedure which is why most dental insurance plans will cover approximately 50 percent of their cost. Certainly, every policy is unique, meaning the amount of coverage provided will vary from patient to patient. If you have any questions about your plan, contact your insurance provider or ask our dental team for assistance. We will gladly review the details of your policy and do everything possible to maximize your benefits and reduce out-of-pocket expenses.
Another Option for Making Dentures Affordable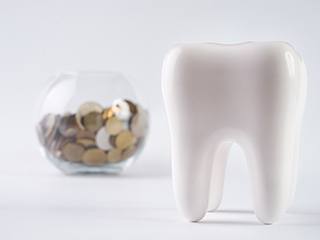 We understand not everyone has dental insurance which is why we offer an additional financing option to make your dental bills much easier to manage. With CareCredit Financing, you can split up the total cost of your treatment into smaller, budget-friendly monthly installments. Options even come with little-to-no interest!
Ready to begin down the path to a beautiful, complete smile? Contact us today to schedule a consultation so we can answer any questions you might have.
Dentures FAQs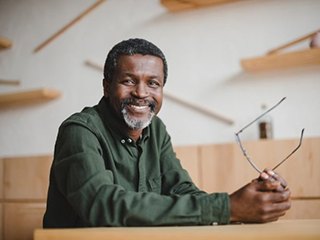 Extensive tooth loss can take quite a toll on your confidence and self-esteem. That's why Dr. Rosenfeld and the rest of our team strive to create the perfect set of dentures in Edison to help you smile brightly again. To give you a better idea of what to expect with this treatment, we've included the answers to a few frequently asked denture questions below. Of course, we're also happy to answer any additional questions over the phone or at a consultation.
How Long Will You Have to Wait to Get Dentures After Your Teeth Are Pulled?
The average wait time between getting teeth removed and receiving your denture is six to eight weeks. However, this timeline can vary based on your specific circumstances. It may seem like a long time to wait without teeth, but your gums need time to heal from the tooth extractions. In some cases, you can receive "immediate dentures," which are placed right after your teeth are pulled – the downside is that they will need to be adjusted frequently during the healing process as your jawbone changes shape.
If you're receiving implant dentures, you'll have to wait at least four to six months for osseointegration – the process by which the implants merge with your jawbone – to occur before your denture dentist in Edison can place your new teeth. The wait is long, but the security that implant dentures provide makes them worth it in the end.
Will It Hurt to Get Dentures?
When you first get dentures, your mouth will take some time to get used to the new appliance inside of it. As a result, you may experience minor gum irritation. This adjustment process usually only lasts for a few weeks, but for others, it can take months. If you received a new denture after wearing an old one previously, it may take longer for your mouth to adjust.
Is It Hard to Talk with Dentures?
Similarly, it will take a while to get used to talking with dentures. After all, you were used to speaking with either your natural teeth or no teeth. Many people with dentures initially speak with a lisp due to changes in their palate, but this will fade with time.
The best way to speed up the adjustment process is to practice speaking aloud – slowly at first, and then gradually speed up. Applying a bit of denture adhesive can help keep them stable while you're still adjusting.
Can You Still Eat Steak with Dentures?
Dentures can make it difficult to chew tough meats like steak, but it can still be done if you take the proper precautions. Tenderloin and other beef cuts don't have as many muscle fibers or connective tissue, making them easier to chew. Additionally, cutting the meat into small, bite-sized chunks will help. Lastly, make sure your dentures fit properly. Denture adhesive can help them stay in place as you're eating.