Dental Crowns – Edison, NJ
Protect & Repair Compromised Teeth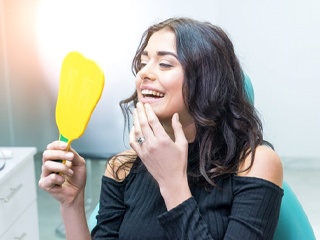 As strong as teeth are, they can become damaged in all sorts of ways. Whether you've developed a cavity, you bit down too forcefully on something crunchy, or you were in an accident, you might be left needing a little help making your tooth healthy again. At Rosenfeld Dental Associates, Dr. David Rosenfeld is happy to protect and repair compromised teeth with dental crowns in Edison, NJ. Contact us today to learn how a dental crown can make your tooth look and feel flawless again!
What Is a Dental Crown?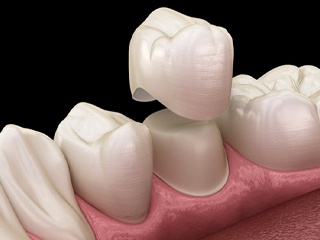 A dental crown is a customizable, hollowed-out "cap" that is meant to fit over and protect a decayed, broken, or otherwise vulnerable tooth. While crowns have traditionally been crafted from metals like silver or gold, Dr. Rosenfeld prefers porcelain crowns because they can be shaded to mimic a patient's natural tooth exactly. Generally, crowns are used in order to:
Hold a broken tooth together
Support a tooth with a cavity so large that a filling isn't enough
Protect a tooth that has undergone a root canal
Cover up a severely discolored or misshapen tooth
The Dental Crown Process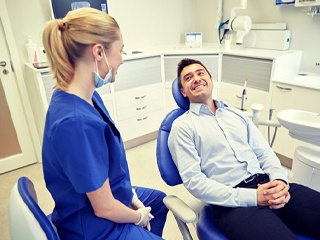 Placing a dental crown usually requires two appointments with your dentist in Edison. At the first visit, we'll take the necessary steps to prepare your tooth. Impressions and X-rays allow our dental lab to create an exact replica of the size and shape of your tooth. Dr. Rosenfeld will then file down a minimal layer of enamel from the sides and biting surface of your tooth. This is done to make room for the crown to fit evenly alongside adjacent teeth and against the opposing tooth. Another impression ensures that your crown will fit snuggly. At the end of the appointment, Dr. Rosenfeld places a temporary crown to protect your prepared tooth. After a few weeks, your permanent crown is sent from the lab, and you'll return to our office to have it bonded into place.
The Benefits of Getting a Dental Crown
Getting a dental crown can improve your life in more ways than you might have thought. For example, dental crowns:
Let you chew foods with ease and comfort
Feel like a natural part of your smile
Give you the confidence to show off your grin
Can last for 15 years or longer with proper maintenance
Dental Crown FAQs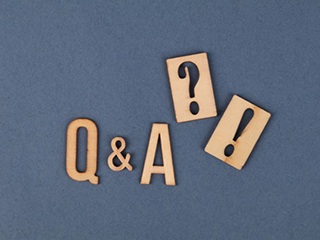 Dental crowns in Edison have held commonplace in dentistry because of their versatility. However, it's normal to have a few questions before you are ready to commit to one. Your dentist will address any concerns at your crown consultation. In the meantime, here are the answers to a few frequently asked questions.
Are dental crowns permanent?
A crown is designed to serve as a long-term solution, but it isn't a permanent fix because it will need to be replaced, eventually. It's not uncommon for a crown to last for a decade or more with the correct care. You can get the most out of your investment by brushing, flossing, and visiting your dentist regularly for a cleaning and checkup.
How long do dental crowns last?
On average, a crown will last for 10 to 15 years before needing replacing, but the restorations can thrive much longer with the proper maintenance. Various factors affect the lifespan of a crown, like the materials used and the location of the restoration. The back teeth undergo more pressure than the front, so crowns placed on molars may have a slightly shorter life expectancy. You can promote its lifespan by brushing, flossing, and using a daily mouthwash. Your dentist will recommend limiting hard, sticky, or sugary foods. It is best to break any bad habits that can damage your crown, like smoking, using your teeth to open packaging, or chewing on your fingernails. Schedule a cleaning and checkup with your dentist in Edison every 6 months to ensure your crown lasts for years. They will check your crown at each appointment to ensure it isn't damaged and is functioning as intended. Don't forget to wear an athletic mouthguard if you play sports. Your dentist may recommend a nightguard to protect your crown if you have a habit of grinding or clenching your teeth.
Do dental crowns get cavities?
Crowns aren't vulnerable to decay, but your underlying tooth is still at risk. Poor oral hygiene can cause plaque to build where the crown meets your gum line. Bacteria in the accumulation can seep under the crown and cause decay. Your risk of a cavity may increase over the years because small cracks can occur in the cement holding your crown to your tooth. Bacteria can reach your tooth through the crevasses. Committing to your oral hygiene and limiting sugar can promote a cavity-free smile.
Are dental crowns covered by insurance?
Every insurance policy differs, but most plans offer coverage for medically necessary crowns. It is unlikely your benefits will cover the entire cost, but they can pay 50% to 80% of the expense after reaching your deductible. A member of our team will work on your behalf with your dental insurance to maximize any benefits to lower the amount you pay out-of-pocket. They will review your payment options for any remaining balance, like third-party financing. We accept various payment methods to keep your treatment affordable.