Emergency Dentistry in Edison
In Pain? Have a Toothache?
By nature, dental emergencies tend to happen suddenly and at the most inconvenient times to boot. If you or a loved one is experiencing serious oral pain or a traumatic injury, don't hesitate in reaching out to Resnick & Rosenfeld DDS for the fast, quality emergency care you need most during this difficult time. We make time for these cases as soon as our schedule allows and even offer same-day dentistry right here in Edison, NJ. Contact us today!
I Have A Dental Emergency! What Do I Do?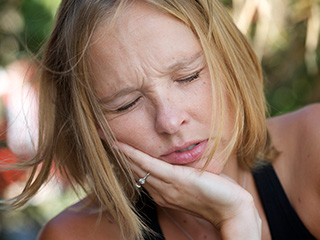 Getting in touch with our skilled dentists should always be your number one priority, but if you're unable to reach help right away, here are some steps for how to manage your condition in the interim:
If you've broken a tooth, collect any significant portions that have broken off and plan to bring them with you to our practice. Facial swelling is likely in cases like this, so we recommend that patients hold a cold compress to the appropriate cheek in order to keep it under control.
If you have a bad toothache, try flossing around the source of the pain and thoroughly rinsing your mouth. This might dislodge a piece of food or other foreign object that's causing the discomfort. If it persists, it's time to contact our Edison office. It is safe to take painkillers, but DON'T touch them directly to your gum tissue.
If you've lost a tooth, rinse the white crown carefully and then place it back into its original socket, holding it in place with your tongue. If you can't accomplish this, keeping the tooth moist is what matters most, and you can accomplish this by placing it in a cup with your saliva or milk. Make plans to visit our practice immediately!
If you've broken your jaw, go straight to your nearest emergency room. Our team can assist you after your recovery with any teeth that were injured or lost in the incident.