July 18, 2013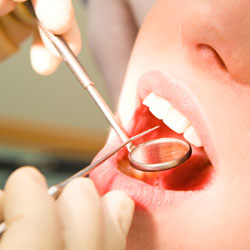 Periodontal disease (also commonly referred to as gum disease) can be tricky. In fact, while a majority of the population suffers from some stage of the condition, many don't know it in the slightest because they're not experiencing any noticeable symptoms. The truth is, periodontal often goes untreated until it advances to its more destructive stages, resulting in deterioration and even tooth loss; that's why it's so crucial for your dentist to catch and treat it as soon as possible. Thankfully, Drs. Resnick and Rosenfeld take the threat of periodontal disease very seriously; that's why they've invested in a revolutionary technique for discovering its presence early on: microscopic monitoring. With the help of microscopic monitoring, our dedicated dental staff at Resnick and Rosenfeld, DDS in Edison, NJ will be able to ensure the health and happiness of our patients' smiles for years to come!
What exactly is microscopic monitoring?
Periodontal disease occurs in the mouth because of a bacterial infection; therefore, by routinely sampling our patients for the presence of these pesky germs, our team can confirm the presence of gum disease early on! We simply obtain the sample with a non-invasive, perfectly comfortable procedure and then observe it closely beneath our high-powered microscope.
There are multiple benefits to this process. For one, treatment isn't delayed until symptoms appear; instead, we can treat your mouth with simple, cleansing procedures that can eliminate dangerous bacteria, essentially saving your smile from any actual damage. Secondly, by undergoing microscopic monitoring, you'll be sure to save yourself a pretty penny by not having to undergo more invasive therapy. What could be better?
Contact our Edison office today to schedule an appointment, or if you have any questions about our services. Dr. Resnick and Dr. Rosenfeld are committed to providing patients from all walks of life with compassionate, personalized dental care that leaves them smiling brighter. We also serve the areas of Clark, Plainfield, Scotch Plains, Westfield, Colonia, and beyond.