April 30, 2013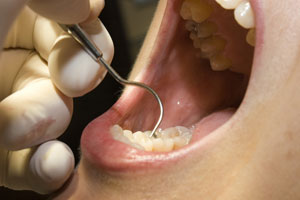 You may be surprised to hear that out of all the dental health issues a person can experience over their lifetime, gum disease is both one of the most common and one of the most destructive conditions. Three out of four Americans today are suffering from some level of the disease, and a large percentage of that number isn't even aware that they have it in the first place! While gum disease is relatively harmless in its earliest stages, sometimes not even exhibiting any noticeable symptoms, it can quickly progress if left untreated, causing serious pain, inflammation, and even tooth loss. Worse, it can contribute negatively to conditions like diabetes and heart disease. Thankfully, Dr. Resnick and Dr. Rosenfeld take the threat of gum disease very seriously, and our team is committed to doing everything we can to keep your teeth and gums healthy and happy at our Edison, NJ office, which includes keeping our patients well-informed about the possible signs and symptoms of gum disease. These include:
Bleeding that occurs when brushing or flossing
Persistent bad breath that isn't helped by mouthwash
Red, swollen, or tender gums
Receding gums (your teeth look longer)
A sudden change in the way your bite feels
Loose teeth
Of course, it's also important to remember that in many cases, gum disease won't exhibit any symptoms that are visible to an untrained eye. That's why attending routine check-ups at Resnick and Rosenfeld, DDS is so important. Because periodontal (gum) disease is a bacterial infection, we routinely sample all our patients for the presence of disease-associated bacteria. In this non-invasive procedure, the dentist or hygienist obtains a sample of the bacteria growing under your gum and observes it with the aid of a specially designed phase contrast microscope. This allows us to determine if a patient is harboring bacteria associated with periodontal disease.
If breakdown has already started to occur, the identification of the bacterial problem allows us to treat the disease with the goal of eliminating the cause of the disease: the bacteria. Once the cause is eliminated, the body can heal itself naturally. This technique is completely non-surgical. It is effective even in the most advanced cases; it allows patients to be cured of periodontal disease without the pain, disfigurement, and tooth sensitivity that can follow surgical procedures. Better yet, it is not nearly as costly!
Contact our Edison office today if you'd like to schedule an appointment! Dr. Resnick and Dr. Rosenfeld are here to help you with thorough, personalized dental care that puts patient comfort first. We also are happy to see patients from Clark, Plainfield, Scotch Plains, Westfield, and Colonia.