April 27, 2015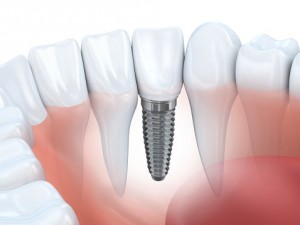 When you are considering the alternatives available for tooth replacement, you have more than one option. You could choose a partial or full denture or crown and bridgework. Dentists agree, however, the most lifelike alternative is a dental implant. With a dental implant, Dr. Steven J. Resnick and Dr. David S. Rosenfeld of Resnick & Rosenfeld in Edison, NJ, replace both the root and crown of a missing tooth. By doing so, you have a replacement that looks like a natural tooth and offers the same stability.
People have missing teeth for any number of different reasons, which may include severe tooth decay, gum disease, injury, a failed root canal, abnormal wear and tear or congenital defects. The importance of replacing missing teeth cannot be overstated, not only from the standpoint of maintaining good oral health, but overall health, too. Just one missing tooth can lead to gum disease, tooth decay, shifting teeth and the loss of other teeth. Moreover, missing teeth can hinder people's ability to consume healthy diets, and they may even be reluctant to smile and laugh knowing that others will see that they have teeth that are missing.
Dental Implants: The Lifelike Solution
Once Dr. Resnick or Dr. Rosenfeld determines that you're a qualified candidate for dental implants, then you're on your way to having a full smile again. Having a dental implant is actually a two-step process. First, one of our dentists will surgically implant a small titanium post in your jaw where you previously had a tooth root. This biocompatible post and the surrounding bone tissue fuse together as you heal, thereby creating a foundation that mimics the one that existed with your natural tooth root and jawbone. Moreover, the post stimulates new bone tissue growth, making bone deterioration far less likely.
Once you've completely healed and the post and bone have had time to fuse sufficiently, you'll return to Resnick & Rosenfeld where one of the dentists will attach a porcelain crown to the post. With this in place, you have a tooth replacement that looks and functions like a real tooth.
Call our Office Today
If you'd like to learn more about how a dental implant can replace one of your missing teeth, then call Resnick & Rosenfeld to schedule a consultation. We serve patients in Edison, NJ, as well as the surrounding communities of Clark, Plainfield, Scotch Plains, Westfield and Colonia.