January 21, 2015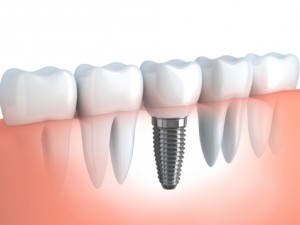 If you have one or more missing teeth, then you know what difficulties that can generate. You might not be eating a healthy and balanced diet, because you are unable to chew certain foods, such as raw fruits and vegetables. You may be reluctant to smile and speaking might be more difficult with even one missing tooth. If this is you, then consider dental implants. Dr. Steven J. Resnick and Dr. David S. Rosenfeld of Resnick & Rosenfeld in Edison, NJ, are eminently qualified to restore your smile, your health and your confidence with dental implants.
People lose teeth for a number of different reasons, including:
Traumatic injury
Extensive tooth decay
Advanced gum disease, or periodontitis
The failure of a root canal
Excessive wear and tear, possibly because of teeth grinding
Congenital defects
Regardless of the cause, replacing missing teeth is imperative in order to restore oral health and prevent possible consequences to a patient's overall health.
Dental Implants Step-by-Step
When you come to Resnick & Rosenfeld for dental implants, one of our dentists will first examine your teeth and gums, as well as evaluate the density of your jawbone. If we determine that dental implants are a good option for you, then the procedure begins with Dr. Resnick or Dr. Rosenfeld performing a minor surgery to implant a small titanium post in the bone beneath the open socket of your missing tooth. Over the next few months as you heal, the post and surrounding bone tissue will fuse together in a process called osseointegration. In this way, the post becomes anchored into the bone much like an actual tooth root.
Once healed, you'll return to the office to have an abutment and dental crown cemented to the post. The result is a prosthetic tooth that looks, feels and functions like a natural tooth.
Call Our Office Today
If you would like to learn more about dental implants, call the office of Resnick & Rosenfeld today to schedule a consultation. We serve patients in Edison, NJ, as well as the surrounding communities of Clark, Plainfield, Scotch Plains, Westfield and Colonia.