How Dental Implants Work – Edison, NJ
Demystifying the Implant Process
When you first learn about dental implants, the whole process can sound kind of intimidating. Once you understand how the treatment works and why certain steps are performed, you'll feel far more confident going into your treatment. For starters, you should know that placing dental implants involves multiple phases before the treatment can be considered complete. At Rosenfeld Dental Associates, Dr. Rosenfeld can explain the process in great detail, whether you need to replace a single tooth or all the teeth in your smile. Of course, we encourage you to ask us any additional questions you may have during your consultation. Feel free to give us a call to get started!
Initial Dental Implant Consultation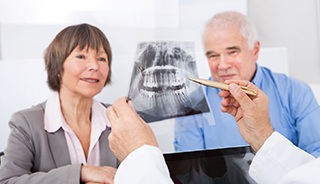 When you first arrive at our office, we'll perform a detailed examination of your current smile to confirm how many teeth and which ones need to be replaced. This will involve a visual exam, but it will also involve detailed X-rays and in all likelihood a cone beam scan (which is performed by the oral surgeon.) Overall, implant consultations allow us to confirm if you are eligible to receive dental implants or if additional treatments are needed before you can safely receive dental implants. For example, if you have gum disease or bone loss, gum therapy and/or bone grafting may be needed.
Dental Implant Surgery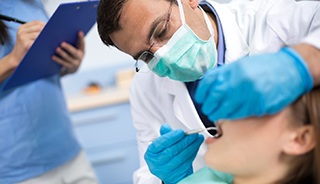 If we determine that you are eligible to receive dental implants, we'll begin the process of partnering you with a trusted oral surgeon either in Edison or another area nearby. At this scheduled appointment, you'll meet with the oral surgeon, have the surgery explained to you in great detail, then be given local anesthetic (and sedation if requested) to ensure the most comfortable experience possible. In most cases, placing dental implants takes just one appointment. To do this, the surgeon creates a small incision in your gum tissue, then a small hole in your jaw so the implant can be placed. Once attached, the gum tissue is closed and given time to heal.
Dental Implant Osseointegration & Abutment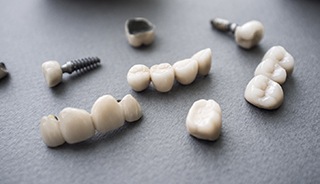 Dental implants are made from titanium, which can safely integrate with your existing bone tissue. However, since the osseointegration process takes about four to six months to complete, you will not receive your restoration just yet. After the healing portion of treatment is completed, you'll visit the oral surgeon one more time to have your implant examined and the abutment placed. The abutment is a very small connector that provides a stable foundation for the permanent restoration. When the abutment is placed, the gum tissue will need to heal over the next couple of weeks before your crown, bridge or denture is attached.
Placement of Dental Implant Restorations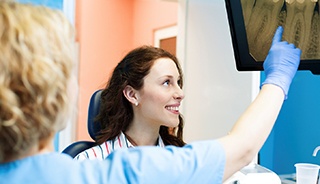 At your final appointment, you'll come back to our office to have the permanent restoration of your dental implant placed. This restoration may be a dental crown, dental bridge, or implant-retained denture depending on the number of implants you have. This restoration is made from tooth-colored ceramic materials, ensuring a truly lifelike appearance next to your remaining teeth. Once attached, we'll make any necessary modifications before you leave and make sure that you are happy with your tooth replacement. We'll also provide aftercare tips to ensure your restoration remains healthy for many years to come.