June 2, 2021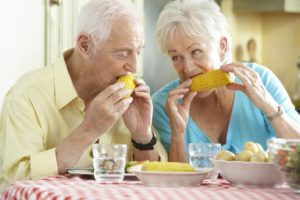 As the sun shines brighter, it's only right for someone to have a smoker or grill roaring, bellowing deliciousness into the air. The familiar smell lets you know that it's summer, but if you're without a full set of teeth, you have to miss out on many of the tasty delights. Thankfully, there is a way to enjoy the many summer foods – with dental implant placement. As you continue reading, learn about this breakthrough in tooth replacement!
What are Dental Implants?
Made from the highest-grade titanium, dental implants are cylinder-shaped posts that mimic the function of the original tooth root. The implants are surgically inserted into the jawbone, which they will fuse with over the next few months to create a sound and lasting foundation.
With dental implants in Edison, you can replace any number of missing teeth, which further displays the procedure's versatility. Here are some of the basic steps of the implantation process:
Initial implant placement – Once the implants are in place, you'll need a few months to heal and for the posts to fuse with the existing bone (referred to as osseointegration).
Addition of the abutments – Titanium abutments are attached to the implants and serve as anchors.
Placement of the final restoration – A custom restoration (crown, implant-retained bridge or denture) is securely affixed to the abutments to leave a fully restored and functional smile.
How Dental Implants Allow You to Eat More Foods
You're able to eat from a wider selection of foods with dental implants because they aren't subject to slipping and sliding in your mouth like other tooth replacement methods. That's because implants don't rely on other teeth or the suction inside your mouth to maintain their position. By being secured through the fusion (osseointegration) process, they provide a high degree of functionality. In fact, you can expect to regain up to 75% of your original chewing capacity.
That means you can indulge in corn on the cob, juicy steaks, burgers, hot dogs and all the other delights that you may have otherwise had to pass up. That's one way to make summer a lot more enjoyable!
The Other Advantages of Dental Implants
With effective dental hygiene, which should include brushing and flossing at least two times a day, your dental implants can last up to a lifetime. By taking this route, you'll have many more blissful summers ahead of you. To get the implant process started, reach out to a dentist in Edison to request an initial visit.
About the Author
Dr. David S. Rosenfeld earned his dental degree from the Columbia University School of Dental and Oral Surgery in New York. He would later go on to serve as Chief Dental Resident at The Jamaica Hospital and Medical Center in Queens, New York, where he helped found and develop the oral implantology program. Dr. Rosenfeld is a Fellow in the International Congress of Oral Implantology and member of the American Academy of Oral Implantology. He restores smiles and lives by placing dental implants at Rosenfeld Dental Associates, and he can be reached for more information or to schedule a visit through his website.
Comments Off

on Summer Foods You Can Enjoy with Your New Dental Implants
No Comments
No comments yet.
RSS feed for comments on this post.
Sorry, the comment form is closed at this time.