February 14, 2021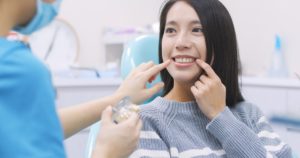 If you have crooked, gapped, or overcrowded teeth, you have more options than ever to achieve the straight smile you desire, like Invisalign. Many adults prefer clear aligners because they are virtually undetectable. You won't have to worry about brackets or wires drawing unnecessary attention to your mouth. Although you'd like to improve your smile, you have a couple of restorations. If you have crowns, bridges, or veneers, you can still benefit from clear aligners. Here's what you need to know to attain your picture-perfect smile with cosmetic dentistry in Edison.
What is Invisalign?
Invisalign is a revolutionary orthodontic system that doesn't rely on brackets and wires to move your teeth. Instead, your dentist in Edison creates a series of aligners, which are worn over your teeth to apply continual pressure to slowly move them into position You'll wear the aligner for about 22 hours per day before switching to the next in the series. Although every treatment differs, most patients are finished with their series in about 12 months.
Can I Get Invisalign with Restorations?
Believe it or not, adults can use Invisalign to straighten teeth and close gaps if they have crowns, bridges, or veneers in Edison. While it is possible, you will require a little extra attention during the planning and duration of your treatment, especially if you have bridges or veneers. Here's what you can expect while straightening your teeth to preserve your restorations.
Dental Crowns
Orthodontic treatment can be a bit challenging with a crown, but it isn't impossible. Invisalign in Edison is often a great solution because the aligners are bonded to the crown; however, they may not be suitable if you need to make significant movements.
Bridges and Veneers
Attaching brackets to your bridge or veneers can damage your restorations, which is why Invisalign may be a more effective option. Your dentist can move your teeth and your restorations correctly using a customized plan; however, if you have severe malocclusion or misaligned teeth, you may need an alternative option.
Will Invisalign Damage My Restorations?
Since the aligners don't adhere or stick to your teeth, they will not damage your crowns, veneers, or bridges. Your dentist will check your prostheses to ensure they aren't compromised before beginning your Invisalign treatment. If you have a loose crown or cracked veneer, they may place a temporary restoration until after you've completed your series. Depending on your specific needs, your dentist may use special methods to preserve your restorations, like slower tooth movements.
Enjoy a Straight Smile
You can benefit from the clear choice in orthodontics despite having veneers, crowns, or bridges. Take your first step toward a beautiful smile by scheduling your consultation for Invisalign.
About Dr. David Rosenfeld
Dr. Rosenfeld earned his dental degree from the Columbia University of Dental and Oral Surgery. He has completed extensive advanced training in many specialties, like cosmetic dentistry and Invisalign. Dr. Rosenfeld has the experience and qualifications you can trust to improve your smile. Contact our office today to see if you're a candidate for Invisalign.
Comments Off

on Can I Get Invisalign with Veneers, Crowns, or Bridges?
No Comments
No comments yet.
RSS feed for comments on this post.
Sorry, the comment form is closed at this time.