January 10, 2021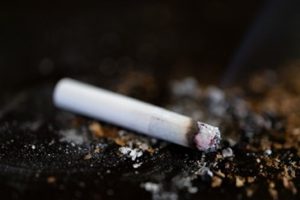 There's no wonder why dental implants are one of the most popular dental restorations today. They look and function exactly like natural teeth without being vulnerable to tooth decay. Dental implants can also restore the ability to eat, speak and smile with confidence. While there is no specific care routine for them outside of practicing proper dental hygiene, it is important to take care of them. If you have dental implants in Edison, here are 5 bad habits you should break.
Crunching on Ice
Eating leftover ice from a soft drink or iced tea may be a regular routine for most, but if you have dental implants, this act can damage them. The pressure from every satisfying crunch can cause chips or cracks. Instead of chomping on ice, try snacking on almonds or walnuts. They are full of iron, magnesium and calcium, nutrients that help keep your bones and teeth strong and healthy.
Using Nicotine Products
Whether you smoke, vape or chew tobacco, the chemicals from these nicotine products slow the blood flow to your gums and other oral tissue, making it difficult for them to fight off infection. While they are more likely to be diagnosed with oral cancer, that isn't the only risk they pose. They are also at a higher risk of developing gum disease and 2 to 3 times more likely to have dental implant failure. If you're ready to quit but aren't sure how to start, your primary care physician can help you decide the best method for you.
Drinking Wine
Studies show that having a glass of red wine can improve heart health, but very few people stop at one glass. Even if you do stick to one glass per night, the tannins in wine can eventually cause staining in both your natural teeth and dental implants. You can help combat this issue by snacking on hard and medium-hard cheeses as you sip. Cheese coats your teeth with calcium, which helps to block staining properties in your favorite wine.
Using Your Teeth to Open Things
If your first instinct is to use your teeth to remove tags from your new purchases or to open bottles, bags or nutshells, this is definitely an important habit to break! Not only can it damage your dental implants and natural teeth, but it can also harm your gums. Try keeping your bottle openers, nutcrackers and scissors in one location so it will take little to no time to grab them.
Forgoing Floss
Just like your natural teeth, plaque and bacteria can lurk below the gum line near your implants. They won't decay, but any natural teeth near them can! Bacteria buildup, plaque and tartar (hardened plaque) that sits under your gum line or between your teeth can put you at risk of developing gum disease. Brushing and flossing are key to keeping your teeth and gums from collecting odor-causing bacteria.
Your dental implants can last a very long time, but only if you take good care of them. Breaking these habits, maintaining proper dental hygiene and visiting your dentist in Edison on a regular basis will help keep your teeth and smile beautiful.
About the Author
Dr. David Rosenfeld is committed to providing every patient with personalized, top-quality dental care. He graduated from the Columbia University School of Dental and Oral Surgery in New York City. Dr. Rosenfeld's advanced training in dental implants and implant prosthetics makes him a top choice for a smile transformation. For more information, contact the office at (908) 668-7838 or visit the website today.
Comments Off

on 5 Habits to Break to Protect Your Dental Implants
No Comments
No comments yet.
RSS feed for comments on this post.
Sorry, the comment form is closed at this time.