December 24, 2020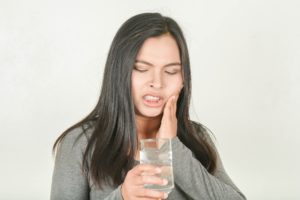 If you're dissatisfied with the appearance of your teeth, veneers in Edison can give you the smile you desire. The thin shells are effective in correcting a variety of aesthetic imperfections using just one procedure. Bonding the veneers to your teeth requires removing a small amount of enamel. As a result, it's normal to be concerned about tooth sensitivity; however, you have nothing to fear. Modern veneers are thinner than ever, allowing you to maintain more of your tooth's structure. Here's what you can expect when enhancing your smile with veneers.
Why is Tooth Sensitivity a Concern?
A veneer is a thin shell bonded to the front surface of a tooth. Applying it requires the tooth's surface to be lightly etched to ensure the veneer sits flush. Your dentist in Edison will remove a small amount of enamel, which is the hard outer layer of your tooth. It protects the underlying dentin, which contains millions of tiny tubes connecting to the nerve center of your tooth, called the pulp.
Traditionally, tooth sensitivity is caused by enamel erosion because there is less of a protective barrier between the outer layer and the dentin. Thankfully, you won't need to worry about any lasting discomfort when choosing veneers.
Veneers are thinner than ever. As a result, less of your enamel is removed during the bonding process. You'll maintain more of your tooth while enjoying a minimally invasive procedure.
Will Tooth Sensitivity Occur?
As with many dental procedures, sensitive teeth can occur; however, it will subside within a few days. In the rare event your discomfort lingers for over a month, it's best to contact your dentist. There may be an underlying issue, like your veneers not being bonded properly. In some cases, it can be the result of an oral health problem that needs to be addressed, like gum disease.
Can Veneers Improve Tooth Sensitivity?
Believe it or not, veneers can sometimes help patients who have tooth sensitivity. If your enamel has been weakened, a veneer will provide an extra barrier by covering your teeth. It will lessen the effects of hot or cold foods reaching your enamel to alleviate your discomfort. Unfortunately, if you're missing too much enamel, veneers may not be the treatment for you. Instead, your dentist will discuss other options to improve your smile while treating your sensitivity.
Am I a Candidate for Veneers?
You'll need a thorough examination by your cosmetic dentist to ensure you're a candidate for veneers. Generally, they can be used to fix a variety of issues, like discoloration, chips, and gaps. If you're ready to transform your teeth, take your first step toward a beautiful smile by scheduling your consultation.
About Dr. David S. Rosenfeld
Dr. Rosenfeld earned his dental degree from the Columbia University School of Dental and Oral Surgery in New York. He has undergone advanced training to specialize in cosmetic procedures, like veneers. As a member of the American Academy of Cosmetic Dentistry, Dr. Rosenfeld can help you achieve your dream smile. Contact our office today to schedule your consultation.
Comments Off

on Do Veneers Cause Tooth Sensitivity?
No Comments
No comments yet.
RSS feed for comments on this post.
Sorry, the comment form is closed at this time.