December 22, 2020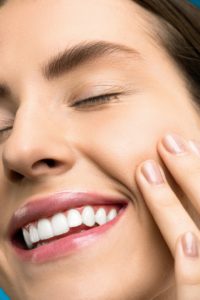 If you're unhappy with the appearance of your teeth, your cosmetic dentist in Edison can transform your smile and your self-esteem. Thanks to modern advancements in cosmetic dentistry, you have more options than ever to achieve the results you want. Among the most popular treatments are dental bonding and porcelain veneers. Both can provide drastic results; however, what's the difference between veneers and bonding? Here's what you need to know to choose the right investment for your smile.
What is Dental Bonding?
Dental bonding is a minimally invasive procedure used to improve the color, size, and shape of a tooth. A composite resin material is customized to match your enamel before it is applied to your tooth to correct a variety of imperfections. The versatile treatment can be used to fix:
Tooth decay
Exposed tooth roots
Dark discoloration or stains
Chipped, cracked, or abnormally-shaped tooth
Close gaps between the teeth
Pros of Dental Bonding
Depending on the number of teeth you're treating, your dentist in Edison can perform your transformation process in just one appointment. It's a convenient and affordable solution to resolve moderate aesthetic issues. Your smile will look natural, and you can enjoy results that can last for a decade or longer with the right aftercare, like maintaining your oral hygiene.
What are Porcelain Veneers?
A veneer is bonded over the entire front surface of a tooth to cover several flaws at once. Modern veneers are thinner than ever, allowing less of the tooth's structure to be removed during the bonding process. Your veneers will be customized to match your exact color, size, and shape needs when used to fix:
Dark tooth discoloration or stains
Chipped, cracked, or abnormally-shaped teeth
Shorter than average teeth
Gaps between teeth
Pros of Porcelain Veneers
Veneers are an effective solution to improve several aesthetic concerns using one procedure. The minimally invasive treatment provides natural-looking results that last for about 10 years before needing to be replaced. Be aware, your dentist will need to remove a small amount of enamel to ensure a secure bond between the veneer and your tooth.
Which is the Right Treatment for Me?
Your cosmetic dentist will perform a thorough consultation to assess your teeth and learn more about your concerns. After discussing your goals, they'll create a personalized plan to achieve your picture-perfect smile.
Invest in a Beautiful Smile
If you're ready to love the smile you see in the mirror, it's time to see if you're a candidate for cosmetic dentistry. You'll give your confidence a boost and improve your outlook on life using a procedure that meets your needs.
Dr. David S. Rosenfeld
Dr. Rosenfeld earned his dental from the Columbia University School of Dental and Oral Surgery. He regularly completes additional training in many specialties, like cosmetic dentistry. As a member of the American Academy of Cosmetic Dentistry, he can help you achieve the results you want with dental bonding or porcelain veneers. Contact our office today to schedule your consultation for cosmetic dentistry.
Comments Off

on Bonding VS Veneers: Which is right for me?
No Comments
No comments yet.
RSS feed for comments on this post.
Sorry, the comment form is closed at this time.