June 17, 2020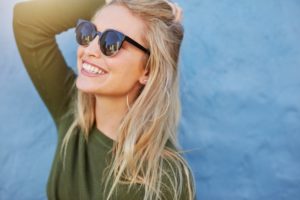 You probably already know that brushing and flossing your teeth every day are key to achieving a healthy smile. However, did you know that enhancing the look of your pearly whites with cosmetic dentistry can improve your oral health as well? In fact, there are numerous ways that boosting the appearance of your smile can help keep you healthier in the long run. Here are seven ways your Edison cosmetic dentist can help you achieve a beautiful smile while promoting better overall wellbeing.
1.) Strengthen Your Jawbone with Dental Implants
Unlike other tooth restoration options, dental implants are designed to replace a missing tooth's roots as well as its crown. The small titanium post that anchors your dental implant into your jaw stimulates blood flow, which prevents bone reabsorption and a sunken, aged look in the facial features.
2.) Prevent Tooth Sensitivity with Professional Teeth Whitening
While over-the-counter teeth whiteners may seem like a good deal, many only lead to subpar results and sensitive teeth. The most comfortable and reliable way to get a brighter smile is with a professional whitening treatment from your Edison dentist. They are specially trained to safely use a powerful whitener while minimizing sensitivity for a comfortable experience and dazzling results.
3.) Achieve Better Oral Health with Straighter Teeth
Food particles, plaque, and bacteria can easily get trapped between misaligned or crooked teeth. In turn, this increases your risk of tooth decay, gum disease, and a variety of other oral health issues. Straightened teeth are easier to clean and keep healthy.
4.) Stop Damage & Decay with Porcelain Crowns
Dental crowns don't have to be made from shiny, noticeable metal materials. Today, they can be crafted from beautiful dental porcelain, which is known for its durability and natural appearance. These tooth-shaped caps fit snugly over any damaged teeth to strengthen them and fend off bacteria and infection.
5.) Practice Better Dental Hygiene with Cosmetic Dentistry
Studies show that those who enhance their smile with cosmetic dental treatments tend to show marked improvement in their at-home oral hygiene. Once you invest into how your smile looks, you'll be much more conscious about how well you're taking care of it!
6.) Protect Your Overall Health with a Clean Mouth
Keeping your mouth clean and free of issues is about much more than achieving a pretty smile. Researchers report that poor oral health is linked to systemic health conditions like diabetes, respiratory infections, rheumatoid arthritis, birth complications, and heart disease. Beautifying your smile can help get your oral health back on track and reduce your risk of these serious issues.
7.) Boost Your Mental Wellbeing with a Beautiful Smile
When you're proud of how great your teeth look, you'll naturally begin to smile more! This triggers the release of serotonin, dopamine, and other feel-good chemicals that foster feelings of happiness, confidence, and relaxation. Not only will this improve your mood, but smiling is also shown to be able to lower blood pressure and boost the immune system.
Cosmetic dentistry aims to help your smile look and feel its best. When you take care of your smile, your whole body will thank you!
About the Author
Dr. David Rosenfeld of Rosenfeld Dental Associates in Edison, NJ has helped countless patients improve their quality of life through a beautiful smile. He is an active member of The American Academy of Cosmetic Dentistry and has completed advanced training in a variety of dental topics. To stay current with the newest advancements in dental technology and techniques, he regularly attends national meetings and conferences about cosmetic and implant dentistry. He would be happy to help you discover how enhancing your smile can boost your wellbeing, so feel free to reach out to him via his website or at (908) 668-7838.
Comments Off

on Cosmetic Dentistry: Improve Your Smile & Your Health
No Comments
No comments yet.
RSS feed for comments on this post.
Sorry, the comment form is closed at this time.