May 30, 2020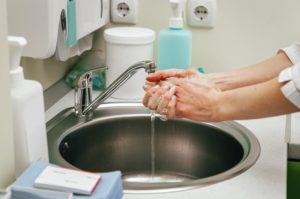 Prior to the COVID-19 pandemic, your dentist always took precautions like frequent handwashing, wearing gloves and masks, and thoroughly cleaning the office. As dental practices are reopening for regular visits, taking safety measures is more important than ever. Your dentist in Edison will explain the new steps being taken to ensure that you are being treated in a sanitary environment to reduce possible spread of the virus.
Advanced Staff Training
Each member of your dental staff has completed additional awareness and prevention programs. Through this, they have become more educated on the spread of the virus and are better prepared for your visit.
Dental Team Health Checks
Every day, the dental team will be asked a set of questions regarding their health. They will also have their temperature taken using a no-touch thermometer to ensure that they do not have a fever. By doing this, your dentist will know that his staff is ready and able to provide safe care to each patient.
Personal Hygiene Standards
Your dental team is always washing their hands frequently. As a result of the pandemic, they are now washing their hands even more than before. They are also refraining from wearing jewelry, watches, and long nails. If a member of the team has long hair, it will be put up, away from the face.
Anti-Microbial Rinse
In addition to brushing and flossing before your visit, you will be provided with an Oracare solution and instructed to swish it around your mouth for 60 seconds to reduces bacteria.
Virtual Waiting Room
You can now check into your appointment from your car. All you need to do is call the dental staff to let them know you've arrived. They will alert you when your treatment room is ready, and you will be able bypass the entire reception area. This prevents unnecessary contact between patients.
Patient Pre-Screening
When you arrive at the office, you will be given a quick health questionnaire and consent form, along with a no-touch temperature check. If your temperature is too high, your dental staff will be happy to reschedule you for a later date.
Hospital-Grade Hand Sanitizing Station
Before going to the clinical area of the dental practice, each patient will be asked to thoroughly disinfect their hands.
Cleaning After Each Patient
As always, the dental team will thoroughly wipe, sanitize, and disinfect all instruments, equipment, and surfaces after each patient.
Increased Personal Protective Equipment (PPE)
Your dentist always wears masks and gloves when treating his patients. Now, he will be wearing even more PPE. This includes higher quality masks, face shields, protective coats, and protective hats. When your dentist is safe, so are you.
Even in these uncertain times, your oral health doesn't need to be neglected. Your dentist and his team are doing everything in their power to keep the office clean so you can be treated in a safe environment.
About the Author
Dr. David S. Rosenfeld practices at Rosenfeld Dental Associates in Edison, NJ. He provides a variety of services for patients of all ages. During the time of the COVID-19 pandemic, he and his team are going above and beyond to give patients care in an office they can feel safe in. His practice has added 25 new protocols to protect both staff and patients. He will be happy to address any concerns you may have about visiting the office. For more information or to schedule an appointment, visit his website or call (908) 668-7838.
Comments Off

on How Is Your Dentist Preparing for Your Visit During The COVID-19 Pandemic?
No Comments
No comments yet.
RSS feed for comments on this post.
Sorry, the comment form is closed at this time.