May 12, 2020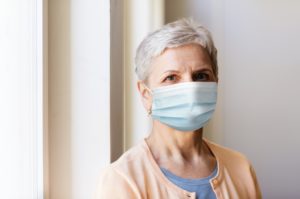 The onset of the COVID-19 pandemic has changed how we interact with the outside world. You've been extra careful when leaving your home for essential items. Because you've been practicing social distancing, wearing a face covering, and frequently washing your hands, your trips outside have been very different. As nerve-wracking as it is to go on public outings, it is even more stress-inducing if you are at a higher risk of developing serious and life-threatening symptoms if you contract the virus. Thankfully, you don't need to be stuck at home filled with dread during the pandemic. Your dentist in Edison answers some common questions of high-risk individuals.
Who is High-Risk?
It is possible for anyone to contract the coronavirus that causes COVID-19 if they haven't already. While some people are completely asymptomatic, others can become extremely ill if they become infected. The following people are considered high-risk:
Anyone over the age of 65.
Older adults who are living in nursing homes.
People who have lung conditions.
Anyone with heart disease or diabetes.
People with chronic liver or kidney disease.
Individuals with weakened immune systems.
Anyone who is obese.
How Can I Stay Protected from COVID-19?
Because there is no vaccine, it's impossible to be 100% protected from COVID-19. However, there are many precautions you can take to significantly reduce your risk of contracting it. Here are just a few:
Stay home as much as possible.
Wash your hands frequently with soap and water for at least 20 seconds.
Avoid touching surfaces during public outings.
Practice social distancing.
Cover your mouth when you cough or sneeze.
Don't touch your face.
Wear a cloth face covering when away from home or interacting with others.
Should I Still Go to My Doctor's Appointments?
Some non-essential appointments like regular check-ups can be postponed until a later date. Certain issues can be discussed through a virtual appointment. If you must be seen in person, give your doctor's office a call to learn more about the steps they are taking to protect their patients from COVID-19. They will be able to give you proper guidance regarding your appointment.
How Do I Get Essential Items?
Even though it is important to stay home as much as possible, especially if you're high-risk, there are certain items that you need to have in your home. Fortunately, there are several options for obtaining medication, groceries, and supplies.
For prescriptions, many pharmacies can have your medications delivered directly to your home. If your pharmacy does not offer this service, use the drive-thru instead of going inside. This way you can reduce contact with others.
When you are needing groceries, consider a contactless delivery option. For an extra charge or through a grocery delivering app, you can have your essentials brought directly to you. If you must go inside, try to buy enough to last you at least a week so you aren't constantly going on public outings. Look out for store hours that are dedicated to high-risk customers. Don't forget to wear a cloth face covering, wipe down cart handles, and follow social distancing guidelines. Wash your hands as soon as you get home.
I Have COVID-19 Symptoms. What Do I Do?
If you or someone you live with is showing symptoms or tests positive for COVID-19, it's crucial to take the following precautions in order to prevent it from spreading:
Contact your healthcare provider to get the best possible advice.
The person who is sick should be able to recover in a separate bedroom, away from others in the household.
Ensure that the person who is sick has a caregiver.
Set up basic rules so the person being isolated can get food and other necessities without making direct contact with others.
All who live in the home should cover sneezes and coughs as well as regularly disinfect surfaces with household cleaners.
Make sure you're using silverware, towels, and other amenities that the sick person is not.
We're living in uncertain times, but there's no need to panic. Taking certain precautions can limit your potential exposure to the virus so you can keep yourself and family safe. You don't have to live in fear—a few daily habits can give you the peace of mind and protection you deserve.
About the Author
Dr. David Rosenfeld provides a comprehensive variety of treatments to patients of all ages at his practice in Edison, NJ. He has completed advanced training in the fields of cosmetic dentistry, oral pathology, and pediatric dentistry. Right now, his dental staff is implementing 25 additional safety protocols to protect their patients, especially higher risk individuals, from COVID-19. For more information or to schedule an appointment, visit his website or call (908) 668-7838.
Comments Off

on 5 Common Questions from High-Risk Patients
No Comments
No comments yet.
RSS feed for comments on this post.
Sorry, the comment form is closed at this time.