December 12, 2017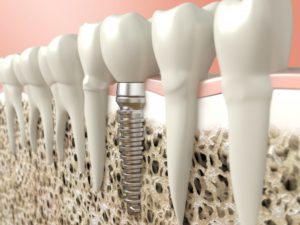 You've just gotten back from your favorite Italian restaurant in Edison with your husband. After throwing your coat on the bed and taking off your jewelry, you walk into the bathroom. As you pull out your partial dentures to clean them, you wonder if there's a better alternative to replacing your teeth.
With help from dental implants in Edison, you could have a longer-lasting and more natural look for your smile. To learn more about dental implants, keep reading.
How Do Dental Implants Work?
Dental implants are cylindrical posts made of titanium that act as a prosthetic for tooth roots. They are made up of three separate parts: the post (the implant itself), an abutment, and a crown. The implant is meant to fuse with your jawbone over time, while the abutment screws the crown in place after the fusion is complete.
The implant fuses to your jawbone through a process known as osteointegration. During this healing process, your dentist will place a temporary crown on top so you can eat and brush normally. Once it is finished healing, they'll attach your permanent crown which will act as your replacement tooth. This tooth is designed to function and be maintained just like the rest of your teeth.
Are Dental Implants Safe?
Dental implants are proven to be safe and effective at replacing teeth as long as they are provided by a credentialed dentist. Your dentist in Edison will more than happy to share their proof of expertise. Furthermore, implants have shown success rates as high as 98%. With proper oral care, your implants can last a lifetime.
Dental implants are regarded as the best method for replacing teeth due to their predictability, durability, and biocompatibility. This means your dentist will know what to expect after implantation, your implant will last through regular wear and tear, and your body will properly accept the implant as if it were another tooth. All these reasons and more are why dental implants cost as much as they do.
How Much Do They Cost?
On average, a dental implant can cost anywhere from $3,000 to $4,500 per tooth. Unlike other tooth replacement methods, dental implants don't need to be replaced, so they are widely considered to be the most cost-effective option. Dentures, bridges, and crowns are usually cheaper and take less time to place, but are more likely to need replacing, only costing you more in the long-term.
This is another reason why working with a dentist with expertise in dental implants is so important. Not only can they offer financing to pay for placement, you'll have peace of mind knowing that your implants were installed with the best care and highest rate of success possible; not something any standard dentist can provide.
Ask your dentist in Edison how dental implants can give you a better quality of life. Schedule a consultation today!
About the Author
Dr. David Rosenfield graduated from the Columbia University School of Dental and Oral Surgery and completed his post-doctorate general practice residency at the Jamaica Hospital and Medical Center In New York. During his time there, he helped found and develop the oral implantology program. Additionally, he was awarded the status of Fellowship in the International Congress of Oral Implantology for his advanced training in the fields of dental implants and implant prosthetics. To learn more, contact his practice at (908) 668-7838 or visit his website.
No Comments »
No comments yet.
RSS feed for comments on this post.
Leave a comment