December 12, 2017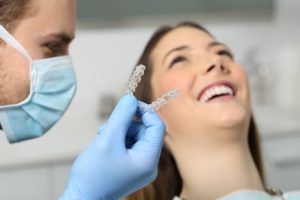 People with straight teeth are perceived as being more attractive and successful than those who have crooked pearly whites. A misaligned smile just doesn't look good! However, making the decision to nudge those chompers into their proper places will do more than improve your appearance. You'll also benefit in much more important ways. Here are a few perks of using Invisalign in Edison that go beyond gaining a selfie-worthy grin.
A Cleaner Mouth
What is easier to clean — a room with clutter all over or one that is highly organized? Of course, it's the organized room. A similar principle applies to your mouth. When your teeth aren't in their proper places, it's more difficult to get rid of plaque and bacteria that build up on them. You may not be able to reach all the tight spaces between your teeth despite all of your best efforts to brush and floss thoroughly. Keeping a clean mouth will become much easier when your teeth are straight.
Healthier Gums
Gums do not fit as securely as they should around crooked teeth, which means that it is easier for bacteria to sneak underneath your gum line. Therefore, a misaligned smile puts you at serious risk for developing periodontal (gum) disease. That's nothing to take lightly; issues with your gums could lead to chronic bad breath and tooth loss.
Teeth That Last Longer
Ideally, your teeth should stay with you throughout your lifetime. However, if they wear out too soon, you might end up losing them. Crooked teeth put extra stress on your chompers because they don't fit together properly when you bite down, meaning they may hit one another at odd angles.
Furthermore, teeth that don't fit together well are more likely to chip and break if you take a blow to the face during a sports game or an accident.
Decreased Headaches
Did you know that crooked teeth can actually cause headaches? That's because they put extra stress on your jaw, which can lead to a temporomandibular joint (TMJ) disorder. You might also find yourself dealing with chronic face or neck pain because of your misaligned smile.
Better Overall Health
The human body is a marvelous network of interdependent relationships. You might not realize it, but your oral health has a direct link with the state of the rest of your body. For example, gum disease has been linked to cardiovascular problems and dementia. By straightening your teeth, therefore, you might just save yourself from a heart attack or Alzheimer's!
Your dentist in Edison cares about your well-being, which is why they may recommend that you use Invisalign to get those teeth where they belong. You'll love your new smile and all the health benefits that come with it!
About the Dentist
The three doctors at our practice, along with the rest of our team, understand both the health and aesthetic benefits of a straight smile. If your teeth are crooked, please contact your Edison dentist at 908-668-7838.
No Comments »
No comments yet.
RSS feed for comments on this post.
Leave a comment