November 16, 2017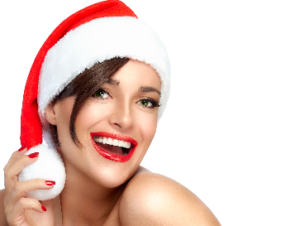 The holidays are an exciting time of year as you gather with loved ones to celebrate the season. While you anticipate the gettogethers, you do not look forward to another year of feeling insecure about the appearance of your teeth. If you are tired of hiding your smile in pictures and while talking to your family, why not give yourself the gift of confidence this year? Your cosmetic dentist in Edison offers simple and effective treatments to improve your smile just in time for the holidays.

Get the Gift of Confidence
Your smile says a lot about you and how you feel about yourself. Not to mention, many tend to base their first impression on the appearance of your teeth. If you have several cosmetic flaws, it is not uncommon to feel judged or insecure. This year, you can get the gift of confidence with your dentist in Edison.
After performing an initial consultation, a comprehensive treatment plan will be created that may include one or more cosmetic procedures to help you reach your desired results.
Teeth Whitening
Tooth discoloration is a natural part of the aging process, but when it is combined with poor oral hygiene, stain-causing foods, and bad lifestyle choices, like smoking, it can make you appear years older than your true age.
To turn back the hands of time, you can get your smile several shades whiter with an in-office or at-home whitening treatment. You will achieve professional quality results that will last with the right aftercare, like maintaining your oral hygiene.
Porcelain Veneers
Porcelain veneers are an effective means to cover a variety of cosmetic flaws, such as chips, cracks, and discoloration. Overall, they improve the size, shape, proportion, and color of the teeth while producing natural-looking results.
In as little as two appointments, you will have a new smile that will last for an average to 10 years before needing to be replaced.
Tooth-Colored Restorations
Do not let dark metal fillings or crowns cause an eyesore in your smile any longer. Now, they can be made to match your enamel color to look like a real tooth. Using high-quality material, it will be strong and durable while restoring your confidence.
Invisalign
Have you always wanted a straight smile but do not want to deal with the appearance and restrictions of metal braces? Now, you can get the results you want without wires and brackets. Invisalign uses clear aligners to gradually move your teeth. The treatment is discreet, comfortable, and quick to make a true investment in your oral health and confidence.
Restore Your Confidence Today
Do not spend another year feeling insecure. Get the smile of your dreams with your Edison dentist.
About Resnick & Rosenfeld
Resnick & Rosenfeld is committed to providing comprehensive dental care that caters to your needs. Our professionally trained staff will make you feel welcome as we help you achieve a healthy, beautiful smile. If you are ready to invest in your confidence with cosmetic dentistry, contact our office today to schedule a consultation.
No Comments »
No comments yet.
RSS feed for comments on this post.
Leave a comment