October 2, 2017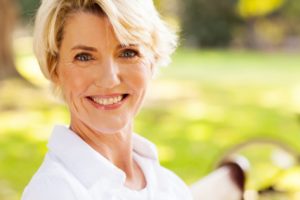 You're looking over the diner's menu, and everything sounds great, but you'll be ordering the soup even though you've had a craving for a burger all week. Why? Because your missing teeth make it quite awkward to chew most foods, and you really don't want to struggle with it in public, even surrounded by strangers. If you're currently dealing with missing teeth, you have a multitude of options that can help you reclaim both your smile and your diet, but most dentists and patients agree that dental implants in Edison is by far the best one. Are they right for you? How can you be sure? We help you figure out this important question today.
1. Are you willing to wait to get a smile that will last a lifetime?
A patient can typically get a dental bridge in as little as two appointments or a set of dentures in a matter of a few weeks to replace their missing teeth. While these are both great options, they tend to break down and typically need to be replaced every 5-7 years. Dental implants, on the other hand, have been shown to last for 30 years or more. The entire process can take anywhere from four months to over a year to complete depending on how many teeth you need replaced, but in the end, you'll have a smile you know will be able to stand the test of time.
2. Are your dental health and overall health under control?
Dental implants require a minor surgical procedure in order to be placed, but before that can happen, your dentist will need to evaluate your dental and overall health with a thorough examination. Dental issues like gum disease or a thin and brittle jawbone (a common side effect of tooth loss) can prevent implants from being successfully placed and will need to be addressed first. Likewise, concerns such as untreated/undertreated heart disease and diabetes can hamper the process as well. You can still get dental implants in spite of these problems, but your dentist will make sure that you're doing everything you can to keep your oral and overall health stable before proceeding.
3. Are you willing to take care of them?
One of the biggest advantages of dental implants is that they can be maintained just like natural teeth, only requiring daily brushing, flossing, and routine dental appointments to stay strong and beautiful over time. If you're considering dental implants, you have to be honest with yourself: are you willing to maintain a consistent oral hygiene routine and regularly see your Edison dentist? If you get dental implants and don't take care of them properly, they will likely fail over time and need to be removed. For some, taking care of their teeth like this will be something drastically different, and for others, it will just be business as usual. In either case, it's extremely important to consider this before undergoing this treatment.
If you've said yes to all of these questions, then congratulations, you are a good candidate for dental implants! Of course, as with any dental treatment, every person's situation will be a little bit different, so if you're considering dental implants, the best thing for you to do is schedule an appointment with an implant dentist in your area today. They'll likely ask you these same questions and perform a thorough exam, and from there, they'll let you know exactly what you need to do to rebuild your smile.
About the Author
Dr. David Rosenfeld is a general, cosmetic, and implant dentist based in Edison, NJ. Over the course of his career, he has helped thousands of patients reclaim their smiles using various restorative treatments, including dental implants. If you're ready to finally say "goodbye" to the gaps in your smile forever, contact him today for an appointment.  
No Comments »
No comments yet.
RSS feed for comments on this post.
Leave a comment