September 15, 2017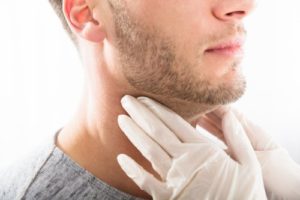 Every so often, as you visit your doctor, you might be reminded about how important it is to get screened for various types of cancer. If you are a woman, breast cancer may be of primary concern. For men, it may be prostate cancer. However, there is one cancer that doesn't always get the attention it deserves — oral cancer. This disease claims thousands of lives every year. Surprisingly, though, it isn't usually a physician who spots its first signs. Dentists often serve as the early warning system for this condition. How exactly does your dentist in Edison detect oral cancer?
Palpation as a Diagnostic Technique
Palpation is a fancy word that refers to the process of using physical touch to find or perceive something. It's what you do when you check your pulse or when you search for lumps in your body that shouldn't be there.
Dentists use palpation in your mouth to detect masses within your throat, gums, or cheeks. They also look for swollen glands around the mouth. Using proper technique during this search is vital, and sadly, not all dentists are properly trained to perform this type of screening.
Here are some signs that your dentist knows what they're doing:
Before the exam, they ask you to report any feelings of pain or tenderness.
They note temperature changes and unusual sounds across structures in your mouth.
They use palpation on both the structures inside your mouth and related parts that can be touched outside of your mouth, such as the area around your throat.
They listen well to your concerns and ask questions to find out if you've been experiencing any signs of oral cancer.
Should You Get Screened?
If you decide to get screened for oral cancer, be sure to ask your dentist a few questions before your appointment so you know if they have experience with this type of diagnostic procedure. If not, you might want to search around town for an Edison dentist who is more proficient.
The general recommendation is for all adults to be screened for oral cancer once a year. It's easy to get screened since it's a noninvasive, quick, and painless process. You could even pair your annual screening with one of your twice-yearly visits to your dentist when you go in for a cleaning and checkup.
Screening is important for everyone, but it's especially vital for anyone who uses tobacco or consumes a lot of alcohol; these are major risk factors for developing cancer. Also, it's worth noting that some cases of oral cancer are directly linked to HPV, so if you've ever had symptoms of this virus, cancer screening is key for you as well (keep in mind, though, that not everyone with HPV experiences symptoms).
Proper screening technique for oral cancer can aid in early detection and help to save lives! If it's been a while since you've been screened for this serious disease, talk to your dentist about getting examined at your next appointment.
About Our Practice
Drs. Steven Resnick and David Rosenfeld work together with the rest of their team to provide comprehensive oral healthcare to folks in the Edison area. If you're concerned about oral cancer or you think it's time to get screened, please contact our office at 908-668-7838.
No Comments »
No comments yet.
RSS feed for comments on this post.
Leave a comment