April 23, 2017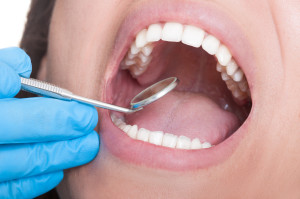 Do your gums bleed when your brush and floss? Are you noticing other symptoms such as bad breath or a change in the fit of a partial denture? These are all signs of periodontal disease in Edison, a serious condition which Dr. Resnick and Dr. Rosenfeld check for and can treat before it leads to tooth loss.

The Details on Gum Disease
Gum disease is an oral health condition that too many people take lightly. Unfortunately, it affects about half of American adults, says the Centers for Disease Control. While it may silently encroach on your gums, gum disease usually exhibits symptoms in varying degrees such as:
● Bleeding upon brushing and flossing
● Puffiness, redness, and tenderness
● Recession, or a "long tooth" appearance
● Loose teeth
● Constant bad breath
● Jaw bone recession
● Gum pockets (spaces between the gums and teeth) deeper than three millimeters
● Dental sensitivity
● Changes in how teeth bite together or in how a denture fits and functions
What causes gum disease?
The American Academy of Periodontology says that the bacteria contained in plaque and tartar which form around teeth and under the gumline hold substantial amounts of micro-organisms which cause inflammation, infection, and destruction of gum tissue.
Additionally, other factors such as stress, poor oral hygiene, heredity, smoking and autoimmune conditions such as diabetes predispose people to mild gingivitis and more aggressive periodontitis. Periodontitis also is linked to several systemic health disorders such as heart disease, stroke, dementia, and osteoarthritis.
Your Edison Dentist Can Help
Dr. Resnick and Dr. Rosenfeld ask to see their patients twice a year for routine check-ups and professional cleanings. These preventive dentistry measures spot gum problems early in their development and also remove the deposits of harmful plaque and tartar that routine brushing and flossing simply miss.
In addition, if your dentist detects gum disease, he can treat it, bringing back these soft oral tissues to full health. The team at Resnick and Rosenfeld DDS offer tooth scaling and root planing to deep clean tooth surfaces above and below the gum line and to smooth roots so gums can successfully reattach.
The dentists also offer a service that few dental practices offer: microscopic monitoring of plaque. This inspection of the biofilm in your mouth tells the doctors how susceptible you are to the advancement of gum disease. They offer preventive and curative antibiotic therapy to keep bacteria at bay and to preserve and heal gum tissue.
How Healthy are Your Gums?
Find out by scheduling a routine oral examination and cleaning with Dr. Resnick or Dr. Rosenfeld. Both doctors are uniquely qualified to monitor your oral health and to help you keep your gums as vibrant and intact as possible. Please contact the office today for an appointment. We are open six days a week for your convenience.
No Comments »
No comments yet.
RSS feed for comments on this post.
Leave a comment