January 27, 2016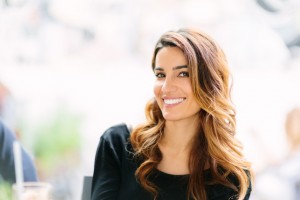 Cosmetic dentistry — we know it sounds like something reserved for the fabulous… or the fabulously wealthy. But the thing is, it's not. In fact, at Resnick & Rosenfeld, we believe just about anyone could benefit from some aspect of cosmetic dentistry. Whether it's a subtle smile change or something a little more dramatic, we're sure there's an aesthetic treatment that can help your teeth go from meh to wow — keep reading to find out more from your dentist in Edison!
Cosmetic dentistry reveals the smile of your dreams
Your perfect smile is back there, hiding behind those little imperfections — the cracks, chips, gaps or stains that keep your teeth from looking their absolute best. With cosmetic dentistry in Edison, you can reveal your best smile and feel confident flashing your grin once again! We help our New Jersey neighbors achieve their most stunning look with the following top services in cosmetic dentistry.
Teeth whitening subtracts years from a smile
Time doesn't do a smile any favors. As the years pass, the effects of those daily coffees and other highly pigmented foods and beverages pile on, slowly darkening the shade of your teeth. Fortunately, signs of age can be reversed with professional teeth whitening! Zoom! Whitening allows you to benefit from the almost instant effects of in-office bleaching. But if you'd like to brighten at your own speed, we also offer an at-home kit for your comfort. Whatever you choose, we know you'll enjoy the professional results Resnick & Rosenfeld have to offer.
Porcelain veneers are the natural-looking enhancement
If you've got several tooth imperfections you'd like to enhance, porcelain veneers might be the solution you've been waiting for. These ultra-thin caps of porcelain attach securely to the surface of the teeth that show when you smile, almost instantly enhancing their shape, size, color and overall appearance. And because porcelain is highly resistant to stains, your veneers will never discolor — something our patients always enjoy.
The Invisalign system: Clear braces for adults and teens
Too many adults avoid orthodontic treatment because they simply can't bear the thought of wearing metal braces for two years. Image-conscious teens may struggle with the same anxiety. At Resnick & Rosenfeld, we have an excellent alternative at the ready — clear braces for adults and teens with Invisalign! This system uses clear, plastic aligners to gradually shift teeth into their preferred position. That means you can enjoy all the benefits of a properly-aligned smile, with none of the stress or anxiety of conventional braces.
Interested in cosmetic dentistry? Talk to us today!
Contact the New Jersey office of Resnick & Rosenfeld when you're ready to change the way you smile for the better. We're passionate about improving smiles in and around Edison, NJ. Call us to book your appointment for cosmetic dentistry today!
No Comments »
No comments yet.
RSS feed for comments on this post.
Leave a comment