December 30, 2015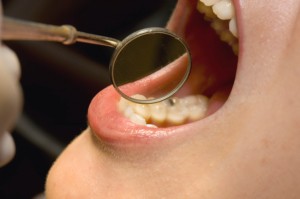 It's time for New Year's resolutions once again. What are you considering this year? Exercise and nutrition are always top choices — but what about your teeth? Choose something different in 2016. Your dentist in Edison wants to remind you that a healthy smile is also a beautiful one, so don't forget your twice annual dental visits this year. In fact, January is an excellent time to schedule your first checkup and cleaning at Resnick and Rosenfeld, DDS. We're here to help you enjoy healthy teeth this year, and for many more to come!
Visit Your Dentist in Edison This January
When you stay on top of your twice annual dental visits, you're giving a dental professional the chance to look inside your mouth to check for the small signs of something far more serious. Tooth decay, gum disease and oral cancer are a few of the bigger ones.
What We Check For At Your Six Month Visit
Far too often, adults wait until they're already experiencing dental pain to visit the dentist. But by then, the problem is often too big for conservative treatment — and little of the natural tooth structure can be salvaged. That's why six month visits are so crucial. When you visit Resnick and Rosenfeld, DDS regularly, we'll take x-rays and probe your teeth to check for decay, examine your gums for signs of infection and even perform an oral cancer screening if you request it.
Other things our dental team of professionals do during your examine include:
Worn dental work

Good oral hygiene habits

Lifestyle choices that affect your oral wellbeing
Other Important Services at Resnick and Rosenfeld, DDS
In addition to wonderful general dentistry services, our Edison practice provides a number of additional services to make sure you can obtain all the care you need under one roof. We offer the following for our patients who wish for a little more than their regular cleaning and examination.
Cosmetic dentistry: Teeth whitening, porcelain veneers, metal-free crowns, Invisalign

Restorative dentistry: Root canal therapy, dental implants, dentures, periodontal disease treatment

Preventive dentistry: Athletic mouth guards, remineralization, microscopic monitoring, laser dentistry
Don't Wait to Schedule Your Appointment for January
Spots for January are filling up quickly — don't wait to contact our office to schedule your first dental checkup and cleaning for 2016! Drs. Resnick and Rosenfeld and our whole team of professionals are here to help you enjoy healthy teeth for a lifetime. Our Edison, NJ practice is proud to serve patients from South Plainfield, Westfield, Garwood, Rahway and more. Call us to schedule your appointment today!
No Comments »
No comments yet.
RSS feed for comments on this post.
Leave a comment