June 29, 2015
Periodontal disease is an infection of the gum tissue afflicting millions of adults throughout the US. Untreated, periodontitis leads to gum and bone recession and tooth loss, impacting systemic health, too. Edison, NJ periodontal therapy through Resnick and Rosenfeld DDS LLC treats gums without surgery, microscopically monitoring the bacteria which lead to this serious oral health problem.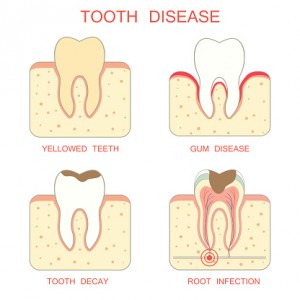 The prestigious Mayo Clinic says that there are 3 million cases of periodontal or gum disease diagnosed each year in the US. This oral infection leads to recession of gum tissue and even underlying jaw bone, and when left to its own devices, periodontal disease causes tooth loss.
It can, however, be successfully treated, many times without surgery, through simple tooth and root scaling and other non-invasive techniques such as those used by Steven J. Resnick DDS FAES and David S. Rosenfeld DDS.
What are the symptoms and causes of periodontal disease?
There are many telltale signs of gum disease, including:
long-standing bad breath
red, bleeding, swollen gums, sometimes having pus
gum recession
loose teeth
Some individuals may be genetically prone to periodontitis. Others suffer from it because they smoke, have poor oral hygiene habits, are diabetic, have hormonal fluctuations or are simply aging.
Using gentle periodontal probing of the gumline, hygienists measure pocket depth (between gums and teeth). When skilled dentists such as Doctors Resnick and Rosenfeld microscopically analyze the sticky plaque from these pockets, they find the bacteria which causes gum disease. The bacteria is often present in gums of patients who have not yet developed symptoms.
Periodontal disease affects systemic health
Besides compromising teeth and gums, periodontal disease has been linked to serious health conditions such as:
dementia and Alzheimer's Disease
cardiovascular disease
stroke
heart attack
diabetes
That's why Edison periodontal therapy is so important.
Periodontal disease in the Edison, NJ area can be treated
For milder cases of gum disease, treatment involves advice on correct home oral hygiene and professional care. Doctors Resnick and Rosenfeld recommend:
twice daily brushing with a good fluoride toothpaste and soft brush twice daily, being careful to brush the gums
daily flossing to remove food particles and plaque from between the teeth
semi-annual dental exams and hygienic cleanings to inspect for changes in teeth and gums and to scale plaque and tartar from between the teeth and at the gum line
no smoking
More advanced cases still may be treated non-surgically with deep scaling, root planing and anti-infective therapy. Anti-infective therapy involves installation of antibiotics at the root level to stop the further growth of harmful micro-organisms.
Would you like to know more about Edison periodontal therapy?
More information is as close as a phone call. Contact the friendly staff at Resnick and Rosenfeld DDS LLC to set-up a consultation with one of the dentists. The doctors will be happy to explain periodontal disease, its treatment and how to avoid it. This professional teams enjoys educating patients on preventive dentistry, including exams, cleanings, sealants, fluoride treatments and other ways to keep your smile healthy, beautiful and long-lasting.
No Comments »
No comments yet.
RSS feed for comments on this post.
Leave a comment