July 20, 2014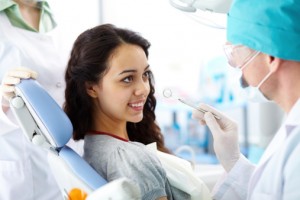 It is estimated that approximately 3 out of 4 adults in America suffer from some level of periodontal disease, more commonly referred to as gum disease. While early cases may not cause noticeable symptoms, this condition can be incredibly dangerous and even lead to tooth loss if not treated in a timely manner. At Resnick & Rosenfeld, DDS in Edison, NJ, our doctors help patients suffering from gum disease overcome their condition with minimally invasive, non-surgical periodontal therapy.
Why Choose Non-Surgical Periodontal Therapy?
There are a variety of ways to treat gum disease in its various forms, each with the same end goal: eradicating the bacteria that cause the infection and helping gum tissue heal as quickly as possible. At Resnick & Rosenfeld, DDS, we utilize the proven power of microscopic monitoring during the diagnosis phase, giving us the ability to specifically target the bacterial problem within the affected gum tissue. This results in more conservative treatment and faster healing, as well as improved patient comfort.
When left untreated, periodontal disease may result in other health complications you might not associate with the status of your gums. These include heart disease, an increased risk of stroke, dementia, high blood pressure, and complications during pregnancy. With non-surgical periodontal disease therapy, we can help restore the health of your gums, thereby diminishing your risk of these and other problems significantly. You'll enjoy a healthier, more attractive smile that feels as good as it looks.
Schedule Your Visit Today
Do your gums bleed when you brush or floss? Do you experience redness, swelling, and sensitivity anywhere along the gum line? If you suspect that you or someone in your family may be affected by periodontal disease, contact our office in Edison, NJ today to reserve your appointment with our doctors and caring, experienced staff. We'll begin with a comprehensive consultation and answer any questions you may have about your condition. Our goal is to provide you with the tools and treatment you need to achieve and maintain a gorgeous, healthy smile. Our Edison dental practice happily serves patients from nearby areas as well, including Westfield, Colonia, Plainfield, Scotch Plains, Clark, and more.
No Comments »
No comments yet.
RSS feed for comments on this post.
Leave a comment