July 9, 2013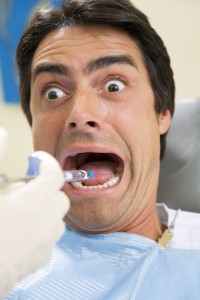 If the thought of going to the dentist makes you want to hide under your bed, you're definitely not alone – a vast majority of Americans report experiencing some level of anxiety or fear when faced with impending dental care. However, it's important to not let these feelings keep you from pursuing crucial care; after all, any problems you have could end up growing worse, resulting in even longer treatments to restore your smile's health. Here in Edison, NJ, Drs. Resnick and Rosenfeld are committed to helping patients feel comfortable at all times; that's why they provide nitrous oxide, a sedation dentistry method that can take the edge off of fear and anxiety, allowing for complete relaxation as our staff works hard to make your pearly whites happier and healthier.
Let the Team at Resnick and Rosenfeld, DDS Rejuvenate Your Smile
Nitrous oxide is often referred to as "laughing gas," and it's not hard to understand why! Once administered through a mask that fits over your nose, it induces the patient with feelings of comfort, warmth, and even euphoria in some cases. Is it not having a strong enough effect? No problem! We can easily increase or reduce the amount of gas you're receiving in order to ensure you feel completely relaxed.
Unlike other sedation dentistry methods, one of the biggest perks of nitrous oxide is that its effects wear off in a matter of minutes. That means you can return to work, run errands, and even drive directly from your appointment – no recovery time required! This is a perfect option for busy patients who can't sacrifice too much time for dental care.
Contact our Edison office today to schedule an appointment. Drs. Resnick and Rosenfeld can't wait to give you something to smile about! We also serve the areas of Clark, Plainfield, Scotch Plains, Westfield, Colonia, and beyond.
No Comments »
No comments yet.
RSS feed for comments on this post.
Leave a comment